We apologize for the inconvenience caused to all applicants of the ENEOS Accelerator Program due to the discovery that some applications were not registered in our system. We understand the frustration and disappointment that this may have caused.

Please send any inquiries regarding the program application through this form.

Once again, we offer our sincere apologies to all applicants who were affected by this problem.
We appreciate your understanding and patience during this time.
The ENEOS Accelerator Program welcomes ideas from a wide range of startup companies to realize the long-term vision of the ENEOS Group and searches for partners that can promote co-creation activities. For this reason, we create an environment that facilitates applications throughout the year and review all applications. For selected projects, we will review hands-on partnerships, including PoC, investment, and dispatch personnel, and make the final decision on the partnership.
Selection Method and Scheme
Applications will be screened based on the criteria described in the application guideline through application documents and interviews. For projects that pass the interview process, we will assign a project manager to the project and contact the applicant directly. After a hands-on review of the business partnership, including demonstration testing, we will make a final decision on the partnership.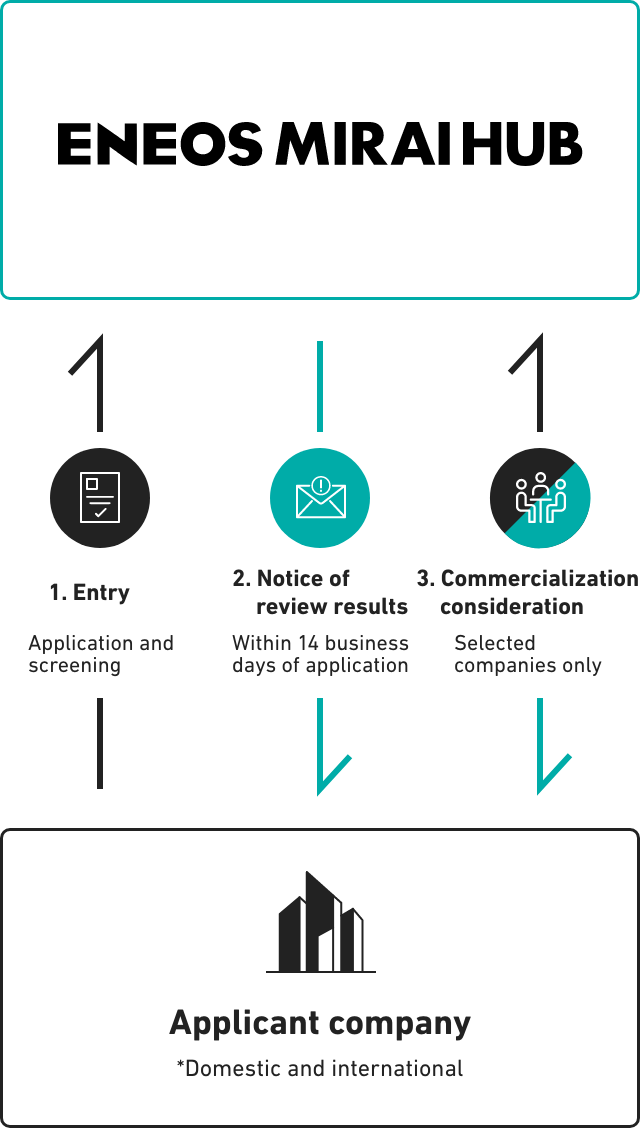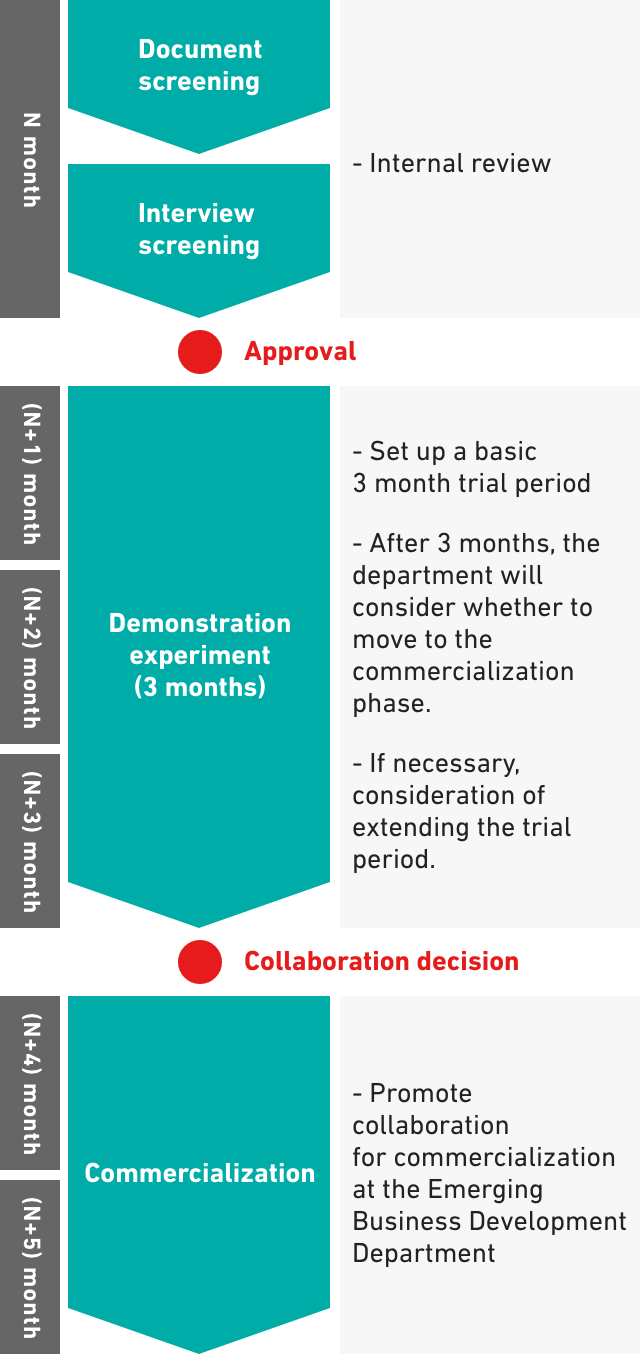 Benefits of Participation
Funding Opportunities

Priority consideration for equity investmentNot necessarily guaranteed

Credit Enhancement

Increase the appeal and social recognition of the company through support from major operating companies

Offer of Field Trials

ENEOS' internal and external networks can provide numerous field trials.

Business Cooperation

Support for corporate growth through collaboration and outsourcing.
Application Theme
Themes related to city planning, mobility, Decarbonized society, recycling, and other innovative technologies.
Major areas of applications:
Click here for a list of themes.
Application Guidelines
Selection Criteria
We make a comprehensive assessment of the company's value proposition, feasibility, business potential, market potential, competitive advantage, significance, team composition etc.
Business Stage
Businesses at any stage are welcome to apply.
We welcome everyone from aspiring entrepreneurs who are in the planning and verification stages to entrepreneurs and start-ups who have already raised funds for their business.
Application Requirements
A representative of the company or team who is fully committed to realizing and accelerating the business plan, or is expected to be fully committed at the time of application.
Even unincorporated sole proprietors may apply (however, those wishing to invest must establish a corporation).
All ages and nationalities are welcome.
It is possible to apply for other contests and programs at the same time.
Language shall be Japanese or English.
The content of the plan must not violate public order and morals.
In the case of a joint proposal by multiple companies, list the lead managing company.
Application Deadline
There is no application deadline.
You can apply at any time throughout the year.
Other notes
Previous applicants can re-enter the program.
We will not be able to respond to individual inquiries about the details of the screening process.
All application costs are the responsibility of the applicant.
Please submit an outline of your plan (that can be made publicly available).
Intellectual property rights such as patents and other rights must belong to the applicant (the applicant must protect the rights).
Be sure to check in advance if you are not infringing the copyright of a third party.
Please apply using the form for the application type below.
Business Applications Application for the collaborative creation of new business models
Technology Applications Applications for technology adoption in our business model
Entry
*You can apply for the categories that there are no descriptions in this website.