News Release
Commencement of Collaboration to Realize a Battery Recycling Society ~Building a BaaS (Battery as a Service) Platform~
2021.05.20
ENEOS Holdings, Inc. (Representative Director and President: Ota Katsuyuki, hereinafter "ENEOS") and MIRAI-LABO CO.,Ltd. (Representative Director: Hiratsuka Toshio, hereinafter "MIRAI-LABO") are pleased to announce that we will start collaborating to realize a battery recycling society.
The two companies will build a "BaaS (Battery as a Service) platform*1," a system that will facilitate the use (leasing, sharing, etc.), reuse, and recycling of batteries. We are considering using batteries in the following three stages, which until now have been limited to primary uses.
Primary use
・Use in electric mobility services, such as electric-assist bicycles and small EV sharing.
Secondary use
・Accumulate used batteries, evaluate their degradation, and reconfigure them as stationary battery systems that can be utilized for their remaining lifespan.
・Consider installing batteries at various locations, such as ENEOS service stations, electric mobility stations, commercial facilities, and residences.
Tertiary use
・Batteries whose capacity has been further reduced through secondary use may still be utilized at low capacity, such as for powering autonomous streetlights*2.
Furthermore, used batteries that have reached the end of their service life through tertiary use will then be recycled for their parts and reused to produce new batteries. In the future, this series of recycling stages will be properly and centrally managed by a cloud system to optimize and maximize battery usage. We are also considering using stationary battery systems (secondary use) for VPP. With the aim of making this platform a reality, and in addition to the mobility services that are currently being demonstrated, we plan to develop in stages battery service demonstrations, including the use of electric bikes, through FY2022.
The ENEOS Group is aiming to build a network of next-generation energy supply and community services with a focus on using distributed power sources. As part of this effort, the Group has begun demonstrations of electric mobility services, including electric-assist bicycles and small EV sharing, with a view to creating innovative businesses through open innovation.
On the other hand, MIRAI-LABO has been promoting the establishment of an environmentally friendly and sustainable autonomous MaaS society*3 by making full use of its MBMS (Multiple Battery Management System) technology.
This collaboration aims to build systems that will provide new and efficient energy that will in turn help realize a recycling-oriented society by evaluating and reusing batteries. Toward that end, the two companies will utilize the know-how and customer base cultivated by the ENEOS Group in its service stations and electric power businesses as well as its new mobility service initiatives such as electric-assist bicycles and small EV sharing, along with MIRAI-LABO's strengths and know-how in battery control systems.
The two companies aim to develop a new efficient energy supplies that contribute to the realization of a recycling-oriented society by utilizing batteries for a range of purposes that are not limited to mobility and are linked to the following Sustainable Development Goals (SDGs): Goal 7 (Ensure access to affordable, reliable, sustainable and modern energy for all); Goal 9 (Build resilient infrastructure, promote inclusive and sustainable industrialization and foster innovation); and Goal 12 (Ensure sustainable consumption and production patterns). In addition, we will contribute to the realization of a low-carbon, recycling-oriented society through our efforts to build a battery grid that strengthens disaster-resistant urban development by utilizing clean energy.
*1: "BaaS" refers to a form of providing and using batteries that were previously sold as products as new services, such as leasing and sharing. It includes a wide range of services related to batteries, such as condition monitoring, secondary use, and recycling.
*2: "THE REBORN LIGHT," an autonomous streetlight developed by MIRAI-LABO that reuses used EV batteries.
*3: An autonomous MaaS society is a new form of MaaS that combines renewable energy and energy storage systems to provide continuous services through an energy infrastructure that is independent of commercial power sources.
Image of the BaaS platform concept being pursued by the two companies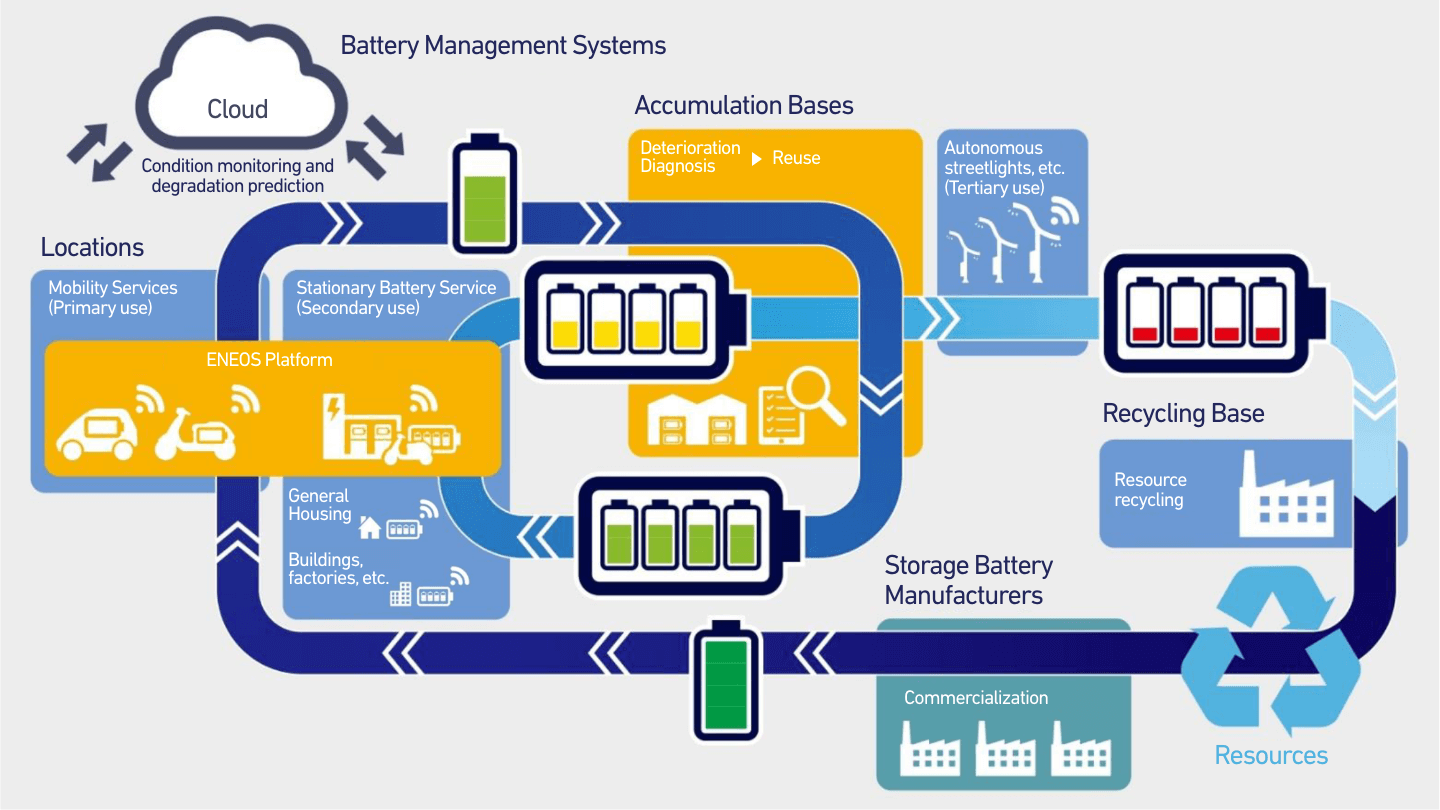 Image of the battery service to be provided by the construction of the BaaS platform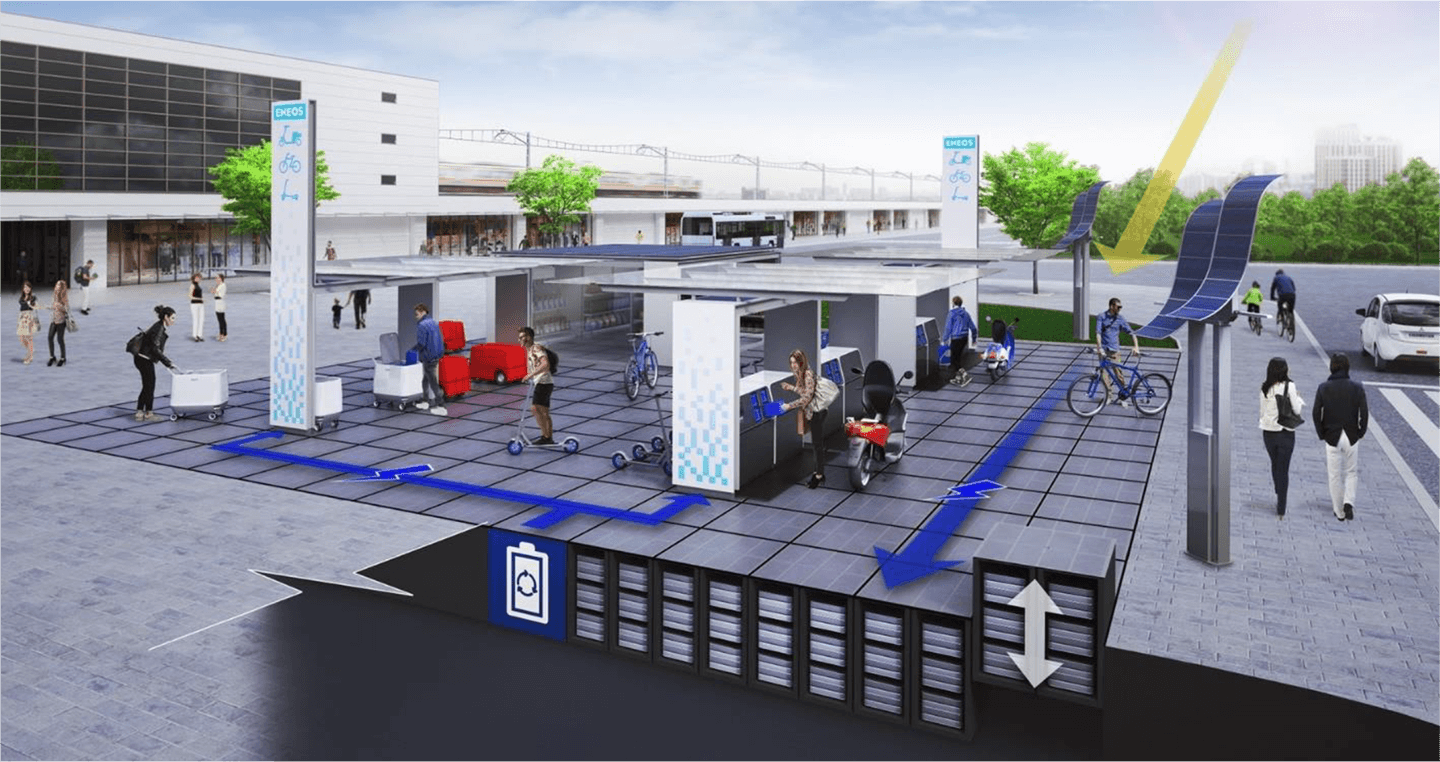 Overview of Each Company
(1) ENEOS Holdings, Inc.
| | |
| --- | --- |
| Representative | Ota Katsuyuki, Representative Director and President |
| Address | 1-1-2 Otemachi, Chiyoda-ku, Tokyo |
| Business | Management and administration of subsidiaries and group companies engaged in the energy business, oil and gas development business, metals business, as well as other related operations. |
| Date of Establishment | April 1, 2010 |
(2) MIRAI-LABO CO.,Ltd.
| | |
| --- | --- |
| Representative | President: Nishida Mutsumi |
| Address | 3-3-20, Sennincho, Hachioji, Tokyo |
| Business | Development, manufacturing, and sales of products that make full use of technologies and know-how in power generation, energy storage, and lighting, in addition to research, development, and provision of autonomous Mobility as a Service (MaaS) core products utilizing these technologies. |
| Date of Establishment | April 6, 2006 |
For inquiries regarding this matter, please refer to the following