News Release
Commencement of a Demonstration Experiment for an Ultra-compact EV Sharing Service ~Realization of a New Mobility Environment through Shared Multi Mobility~
2021.03.22
Saitama City, ENEOS Holdings, Inc. (hereinafter "ENEOS"), and OpenStreet Inc. (hereinafter "OpenStreet") are pleased to announce the start of a coordinated demonstration experiment*1 for "shared multi mobility" and other services as part of the Omiya Saitama Shintoshin Project, which is part of the larger Saitama City Smart City Promotion Project selected in July 2020 as the leading model for the Ministry of Land, Infrastructure, Transport and Tourism's Smart City Model Project.
We are pleased to announce that the demonstration experiment will start on March 23, 2021 in the area around Omiya Station and Saitama-Shintoshin Station.
In this experiment, as a first step in implementing a shared mobility service that allows people to choose the most suitable means of mobility from multiple mobility options according to their immediate travel needs, we will start a new sharing service for ultra-compact EVs in addition to the electric-assist bicycles and scooters that have already been implemented using OpenStreet's sharing platform. By creating an environment where people can use the most convenient mobility according to a variety of situations, we will improve the convenience of transportation overall in the city. In addition, at Multi-mobility Stations (hereinafter referred to as "Stations"), which will serve as multi mobility hubs, ENEOS will supply a portion of the electricity used for each vehicle with electricity derived from renewable energy. Doing so will contribute to the realization of a low-carbon society. The mobility usage data obtained from this demonstration experiment will be used to improve the convenience of the service, including the introduction of new mobility vehicles and consideration of additional station locations.
The world's smallest four-seater ultra-compact EV "FOMM ONE*2" will be introduced for the first time in Japan as a car-sharing vehicle in this experiment. The vehicle's compact size will save space at stations, and its interior space sufficient for a wide range of transportation needs, such as shopping, transporting children, and visiting customers, etc. The sharing of ultra-compact EVs available for one-way use will start with 10 vehicles across 8 stations with 22 parking spaces, although this scale will be subsequently expanded.
Since prior to this experiment in January 2021, cooperating companies*3 have been collecting user feedback in demonstration experiments regarding the availability of ultra-compact EVs as a means of transportation that allows people to avoid the "three C's" of infectious disease transmission (closed spaces, crowds, and close contact). Based on the feedback collected thus far, we will hold a test riding event at the Saitama-Shintoshin Bus Terminal on March 26 (Fri.) and 27 (Sat.) 2021, so that people can ride the EVs safely and securely even if it is their first time.
We will continue to listen to the voices of users of our service and provide new transportation services to realize a society in which people can travel with peace of mind.
*1 Demonstration Experiment Agreement on Shared Multimobility, etc.
*2 FOMM
*3 Cooperating companies in the demonstration experiment
Sompo Japan Insurance Inc., Villas des Mariage Saitama, Mochizuki Printing Co.,Ltd.
References
1.Overview of Demonstration Experiment
Purpose and content of the experiment
To implement a variety of mobility sharing services in society as a new urban transportation system that improves convenience of movement in urban settings while reducing environmental impact, the city and private sector will collaborate to verify the effectiveness of the multi-mobility sharing project and the issues its implementation faces (the experiment is scheduled to be carried out in the areas surrounding Omiya Station and Saitama-Shintoshin).
Role of each company
・Securing public property for the Saitama Mobility Port ・Coordination with related businesses
・Verification of the results of demonstration experiments, etc.
・Implementation and operation of the ENEOS Multi-mobility Sharing Project (facility development, maintenance, management, etc.), etc.
・Provision of a platform for the OpenStreet Multi-mobility Sharing Project, provision of operation and usage data, etc.
Location of the demonstration experiment
The Omiya Station and Saitama-Shintoshin areas (approx. 5km altogether)
2.Station Map
(The image displayed on the smartphone app)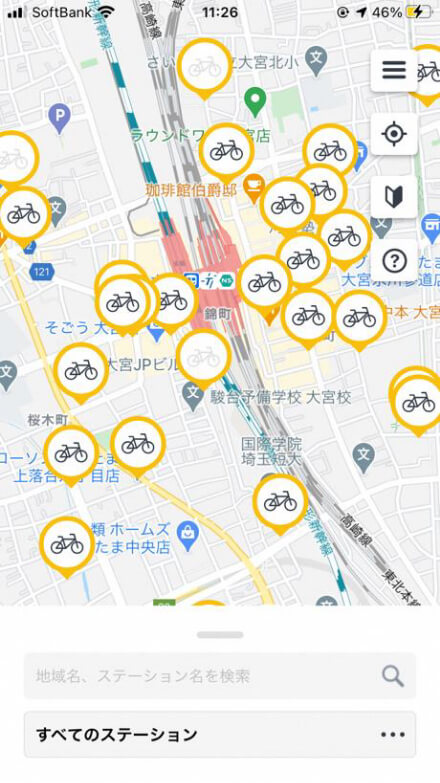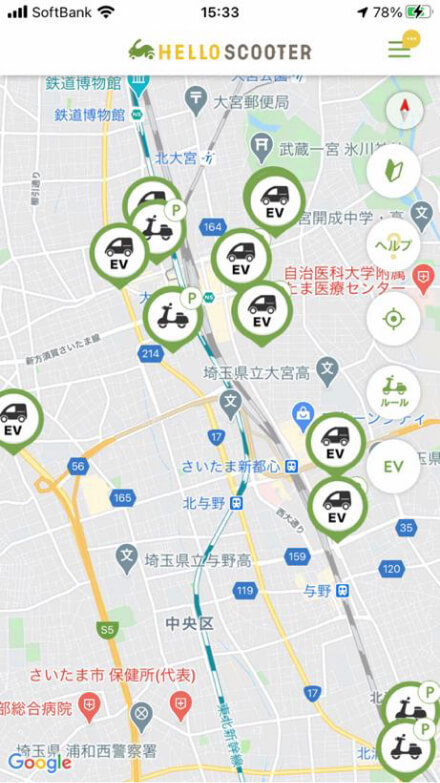 3.OpenStreet's Sharing Platform
OpenStreet's mobility sharing service uses a dedicated smartphone application to perform a series of procedures from searching for a rental vehicle and return stations, making reservations, and making payments. The "one-way trip" system allows users to return vehicles to any station regardless of the area. Currently, the "HELLO CYCLING" service is providing shared bicycles, the "HELLO SCOOTER" service is providing shared scooters and ultra-compact EVs, and the "BLUU" service is providing special parking lots for mobility sharing.

(EV Sharing Service Special Site)

4.Multi-mobility Station (image)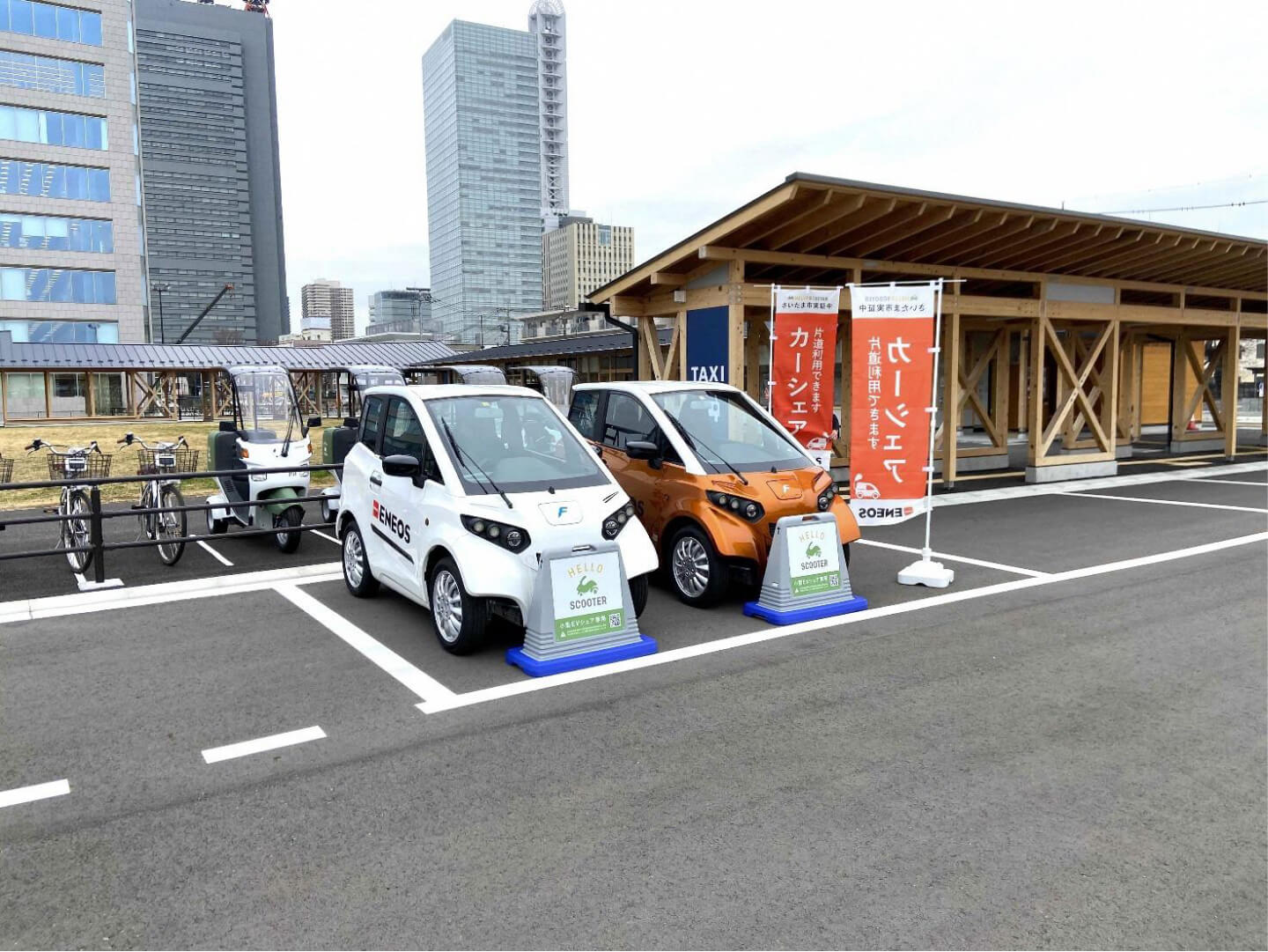 5.Ultra-compact EV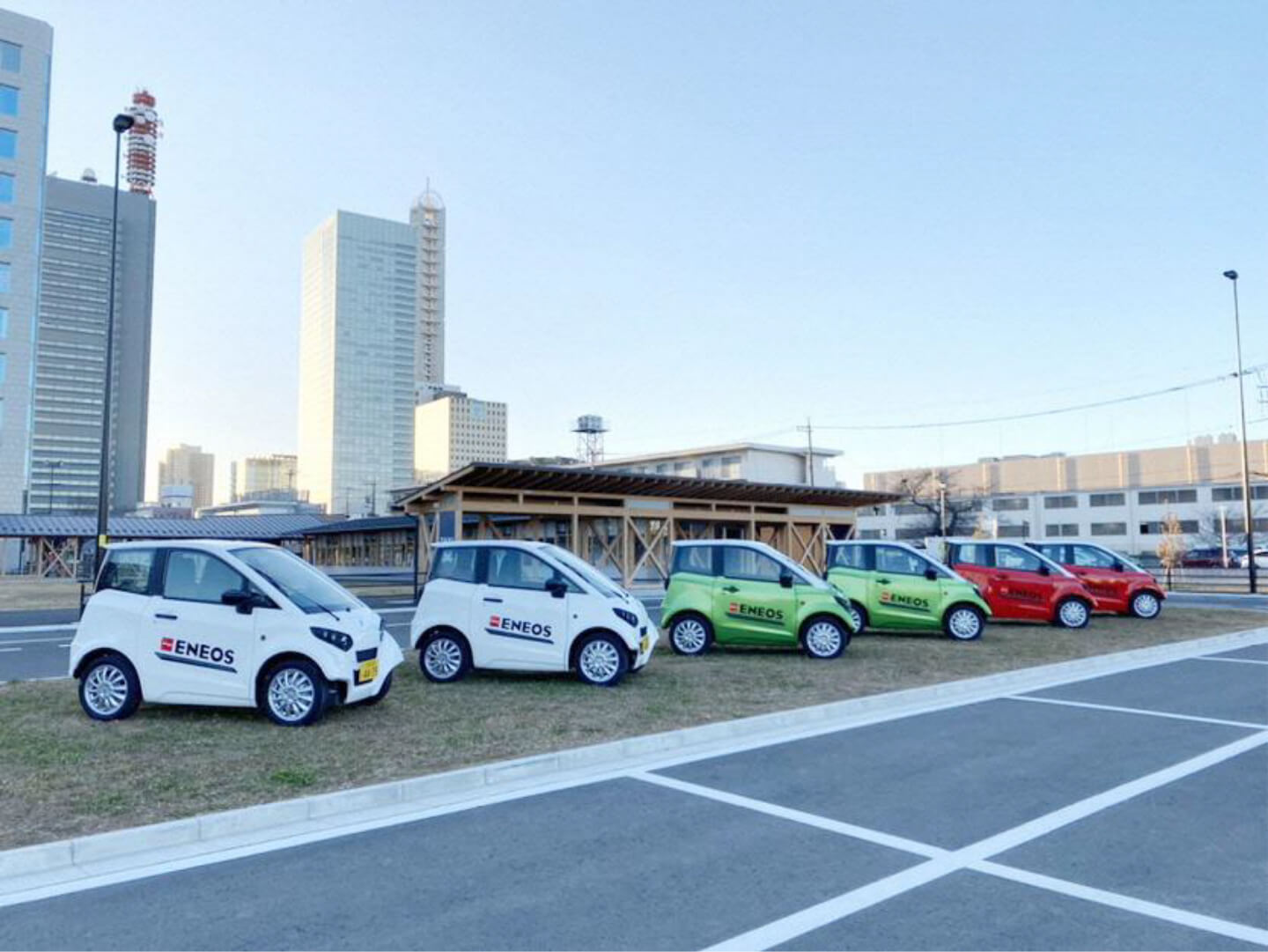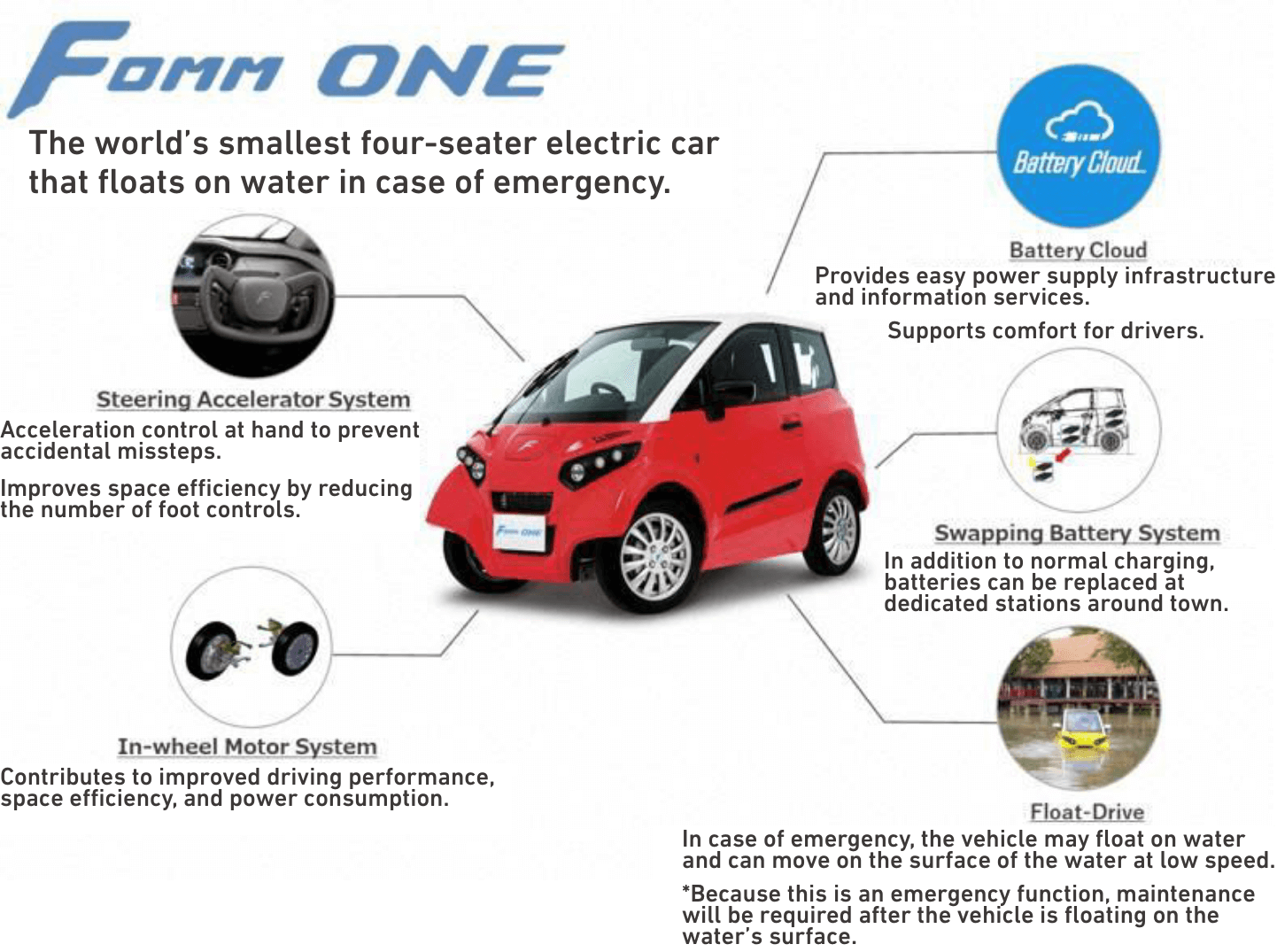 6.Test Ride Event
Date and Time
March 26 (Fri.) and 27 (Sat.), 2021 10:00 to 16:00
Place
Saitama-Shintoshin Bus Terminal
1-603-1 Kitabukurocho, Omiya-ku, Saitama City, Saitama Prefecture
Contents
Test rides of ultra-compact EVs, scooters, and electric-assist bicycles
How to participate
Please apply via the entry form (can be accepted on the same day of the event)
https://form.run/@saitama-sc
*If you register in advance, the registration process at the venue will be smoother.
7.Overview of Relevant Companies
(1) Saitama City
| | |
| --- | --- |
| Representative | Mayor: Shimizu Hayato |
| Address | 6-6-4 Tokiwa, Urawa-ku, Saitama City, Saitama Prefecture |
(2) ENEOS Holdings, Inc.
| | |
| --- | --- |
| Representative | President: Ota Katsuyuki |
| Address | 1-1-2 Otemachi, Chiyoda-ku, Tokyo |
| Business | Management and administration of subsidiaries and group companies engaged in the energy business, oil and gas development business, metals business, as well as other related operations |
(3) OpenStreet Inc.
Representative
CEO: Osaka Munehiro
Address
TOKYO PORTCITY TAKESHIBA Office Tower 35th Floor, 1-7-1 Kaigan, Minato-ku, Tokyo
Main Services
Mobility Sharing Services, Development and Provision of IoT Device
HELLO CYCLING (https://www.hellocycling.jp/)
HELLO SCOOTER (https://www.helloscooter.jp/)
BLUU (https://www.parking.bluu.jp/)
Main Shareholders
Z Holdings Corporation
SoftBank Corp
ENEOS Holdings, Inc.
Sojitz Corporation
*Including indirect investments
For inquiries regarding this matter, please refer to the following
For Public Relations
Saitama City Urban Affairs Bureau City Planning Department General Affairs Division
TEL 048-829-1394
ENEOS Holdings, Inc. Public Relations Dept.
TEL 03-6257-7150
OpenStreet Inc. Public Relations
Email pr@openstreet.co.jp
Regarding OpenStreet's services
OpenStreet Inc. Public Relations
Email pr@openstreet.co.jp