News Release
ENEOS to Collaborate in Environmental Value Trading Projects to Promote CO2 Emission Reduction
2021.03.18
ENEOS Holdings, Inc. (President: Ota Katsuyuki; hereinafter "ENEOS") and WasteBox Inc. (Representative Director: Suzuki Shuichiro; hereinafter "WasteBox") today announced that they have started collaborating in the business of trading environmental value as represented by CO2 credits.
ENEOS has invested in WasteBox through ENEOS Innovation Partners LLC (General Manager: Yazaki Yasunori), a wholly owned subsidiary of ENEOS.
The ENEOS Group has set a goal of achieving carbon neutrality for its own CO2 emissions by 2040 and is actively promoting collaboration with startups and others to create businesses that contribute to reducing CO2 emissions. We aim to build an ENEOS environmental value ecosystem in which the amount of CO2 emissions reduced through these collaborations will be converted into credits in the value trading business that we are also now collaborating on. ENEOS will purchase these credits and apply them to its own CO2 emissions reductions.
In this collaboration, we will build an environmental value trading business that utilizes WasteBox and associated international initiatives' knowledge and experience in CO2 credit entitlement and carbon offsetting. Regarding calculating values, we will acquire third-party certification that is recognized as a global standard and use an appropriate method based on the latest trends in "net zero" not only in Japan but also internationally. In addition, the two companies will consider establishing a joint venture company that would operate this business by FY2022.
Furthermore, the two companies will conduct a study on calculation methods of the environmental value created by "Nature based Solutions" (NbS), such as the regeneration of ecosystems in forests, oceans, and other bodies of water. They also aim to utilize businesses investing in the creation of CO2 credits in the field of NbS, which ENEOS is promoting.
The two companies will accelerate their contribution to a low-carbon, recycling-oriented society through this collaboration, which will lead to the achievement of certain Sustainable Development Goals (SDGs): Goal 8 "Job satisfaction and economic growth"; Goal 13 "Concrete measures to combat climate change"; and Goal 17 "Achieve goals through partnership."
References
1.Conceptual diagram of the ENEOS Environmental Value Ecosystem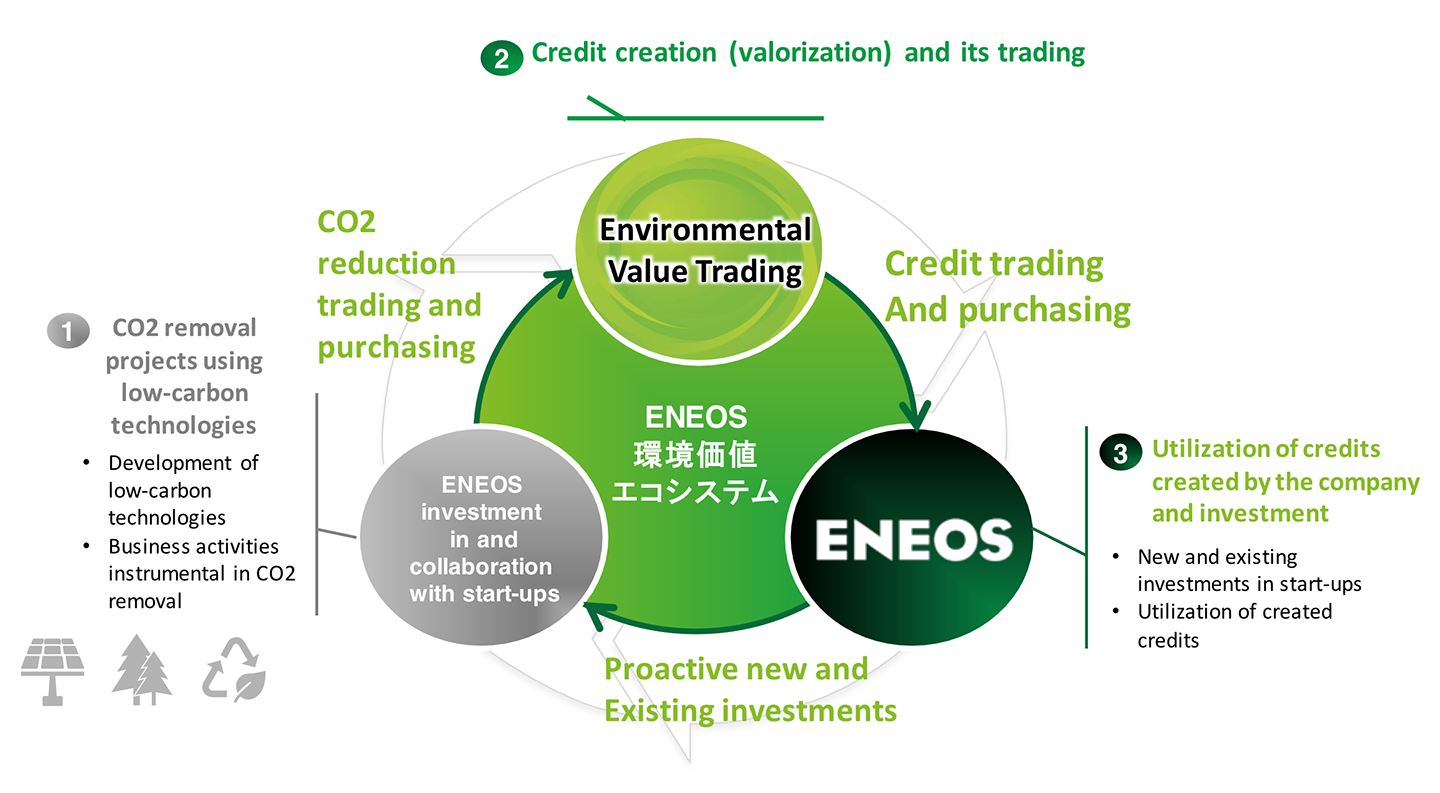 2.Overview of Companies
(1)ENEOS Holdings, Inc.
| | |
| --- | --- |
| Representative | President Ota |
| Address | 1-1-2 Otemachi, Chiyoda-ku, Tokyo, Japan |
| Business | Management and administration of subsidiaries and group companies engaged in the energy business, oil and gas development business, metals business, as well as other related operations |
| Established | April 1, 2010 |
(2)WasteBox Inc.
Representative
CEO Suzuki Shuichiro
Address
2-6-1 Sakae, Naka-ku, Nagoya, Aichi Prefecture, Japan
Business
•GHG-related projects (Understanding of SCOPE 1, 2, 3 and support for disclosure of SBT, RE100, CDP)
•Research into emissions of products and services (LCA, CFP, etc.)
•Serving as an agent to obtain emission rights (J-Credit creation support, etc.)
•Carbon offset provision business
Environmental consulting business related to the above
Established
February 2, 2006
(3)ENEOS Innovation Partners LLC
| | |
| --- | --- |
| Representative | General Manager Yazaki Yasunori |
| Address | 1-1-2 Otemachi, Chiyoda-ku, Tokyo, Japan |
| Business | Investment in and management of future businesses and promotion thereof |
| Established | October 1, 2019 |
| Shareholder Composition | ENEOS Holdings, Inc. 100% |