News Release
Research on behavior changes in new transportation environments centered on shared bicycles on the University of the Ryukyus campus
2021.02.15
ENEOS Holdings, Inc. (President: Ota Katsuyuki, hereinafter "ENEOS"), University of the Ryukyus (President: Nishida Mutsumi, hereinafter "University of the Ryukyus"), and OpenStreet
Inc. (President: Osaka Munehiro, hereinafter "OpenStreet") have signed an agreement to conduct behavior change research through the creation of a new transportation environment. In
addition, with PROTO Solution Co.,Ltd. (President: Shiraki Toru, hereinafter referred to as "PROTO Solution") participating as a research collaborator, we are pleased to announce
that we will start a demonstration experiment in and around the university's premises.
Background and Objectives of this Collaborative Research
ENEOS and the University of the Ryukyus have been discussing solutions to traffic congestion issues through workshops and other opportunities for open innovation. Meanwhile,
OpenStreet, which provides mobility sharing services such as electric assist bicycles and scooters, and ENEOS are collaborating to build a future mobility platform. In order to
utilize mobility sharing services to solve the problem of traffic congestion, we have initiated a joint research project with three parties connected through ENEOS.
As a demonstration experiment, this joint research project will provide a sharing service for electric assist bicycles in and around the University of the Ryukyus's premises,
where traffic congestion is chronically caused by commuting to and from work or school by car, in order to reduce the rate of commuting to school by car and, thereby, alleviate
traffic congestion. In addition, the electricity used for the electric assisted bicycles will be supplied by renewable energy sources, such as solar power, with the aim of building a
decarbonized society.
PROTO Solution, which operates the shared bicycle service "CYCY" in Okinawa Prefecture using the platform "HELLO CYCLING" developed by OpenStreet, will participate in the
demonstration experiment as a research collaborator. In addition to operating CYCY, both for its own business and for the demonstration experiment, PROTO Solution will maintain and
manage the bicycles, the stations that will serve as bicycle parking areas, and other facilities.
One of the stations to be installed in the University of the Ryukyus will supply energy to the electrically power-assisted bicycles using renewable energy sources, such as
solar power. Additionally, we will conduct behavioral change research by analyzing the usage data of the shared bicycles provided by OpenStreet, which we will then use to study
societal responses to the introduction of new mobility services and to optimize the future location of stations. ENEOS will contribute to the smooth progress of this research by
managing the overall progress of the joint project and coordinating the parties involved.
Together, the four parties will contribute to the development of society and the
creation of a vibrant future through services that meaningfully address social issues.
Solutions to Social Issues for which this Joint Research Aims – SDGs
| | |
| --- | --- |
| | Provide infrastructure that is easy for everyone to use, along with clean technology and environmentally friendly systems |
| | |
| --- | --- |
| | Provide complementary services to extant public transportation as well as a platform that is easily accessible to all |
| | |
| --- | --- |
| | Form effective partnerships with industry, academia, and government to achieve our goals |
References
1. Overview of Joint Research
Research Inquiry
Research on behavior changes in response to a new transportation environment
Purpose and Content of Research
By creating an environment in which new students of the University of the Ryukyus can live without a car, we can reduce the rate of commuting to school by car, thereby easing
traffic congestion in and around the university campus. The ultimate goal is to help realize a decarbonized society by using renewable energy to supply the electricity used in
the shared bicycle service.
Research Responsibilities
・ENEOS: Progress management of the entire project, coordination of related parties
・University of the Ryukyus: Acquisition of traffic data, announcement to students, analysis of behavior change data, supply of renewable energy to share bicycles
・OpenStreet: Provision of share bicycle platform "HELLO CYCLING"(*), provision of share bicycle usage data
・PROTO Solution: Operation of "CYCY," a shared bicycle service using "HELLO CYCLING," along with maintenance and management of bicycles, stations and other facilities
Location of Research
University of the Ryukyus and an approximately 3km area around its campus
(Four stations including Tedako-Uranishi Station have already been deployed, with the possibility of additional stations in the future)
*This is a service that allows users to borrow and return electric assist bicycles, which can easily travel up hills, at any station. Everything from searching for a station to
making a reservation for bicycle use and paying can be done easily with a smartphone or PC.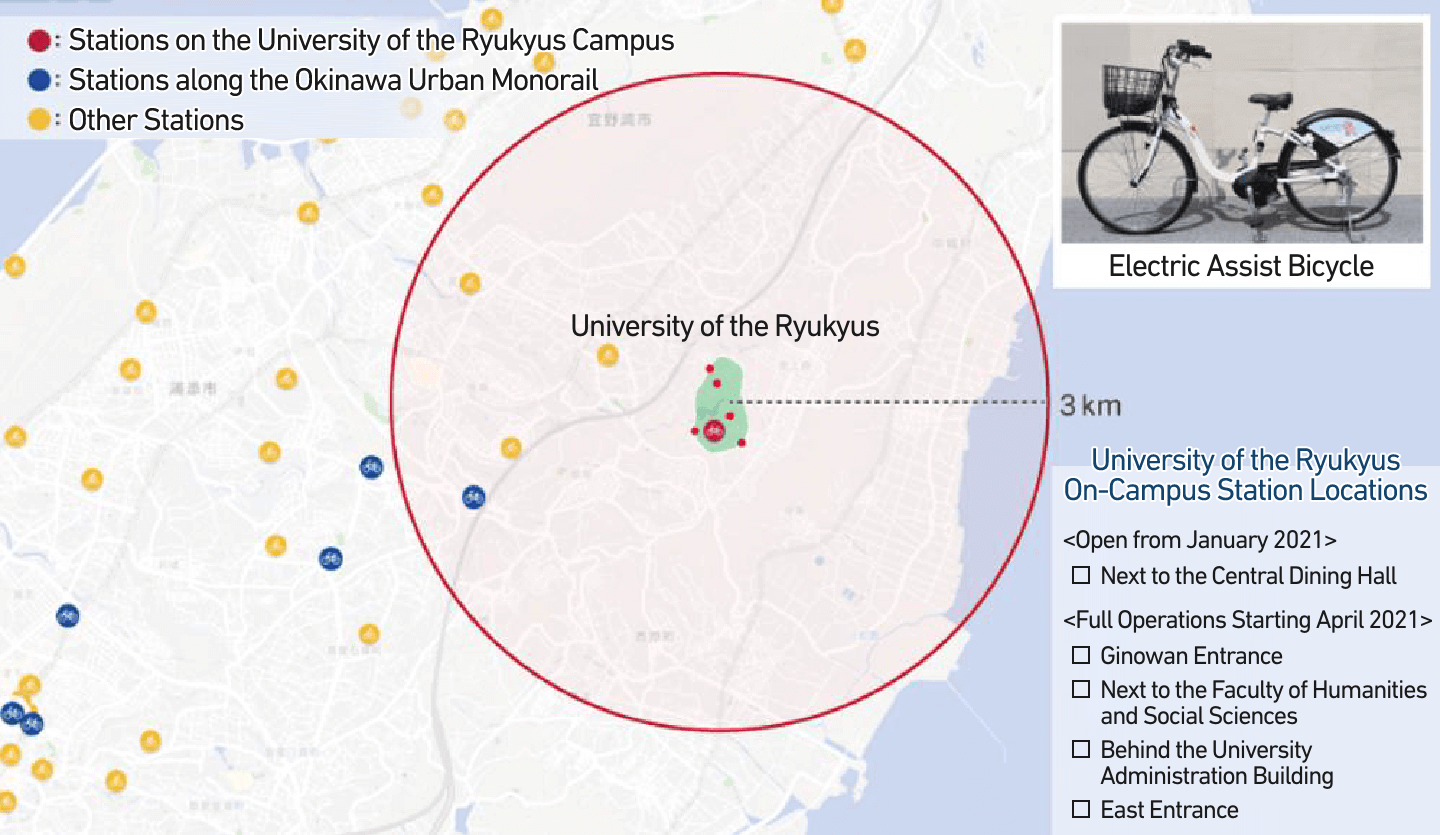 2. Company Overviews
(1) ENEOS Holdings, Inc.
Representative
President: Ota Katsuyuki
Address
1-1-2 Otemachi, Chiyoda-ku, Tokyo
Business
Management and administration of subsidiaries and group companies engaged in the energy industry, oil and natural gas development industry, and metals industry, along with
other operations incidental thereto.
(2) University of the Ryukyus
| | |
| --- | --- |
| Representative | President: Nishida Mutsumi |
| Address | 1, Sembaru, Nakagami-gun Nishihara-cho, Okinawa Prefecture |
| Business | A national university located in the southernmost part of Japan with seven academic departments and nine graduate schools for research and education. |
(3) OpenStreet Inc.
(4) PROTO Solution Co.,Ltd.
| | |
| --- | --- |
| Representative | President: Shiraki Toru |
| Address | PROTO Ginowan Building, 7-10-25 Oyama, Ginowan City, Okinawa Prefecture |
| Business | Digital marketing, IT integration, user media, communication support, human resources support |
For inquiries regarding this matter, please refer to the following:
For Public Relations
ENEOS Holdings, Inc. Public Relations Dept.
TEL: 03-6257-7150
University of the Ryukyus General Affairs Division, General Affairs Section, Public Relations Office
E-mail:kohokoho@acs.u-ryukyu.ac.jp
OpenStreet Inc. Public Relations
E-mail: pr@openstreet.co.jp
PROTO Solution Co.,Ltd. Public Relations Officer Tamaki Hisako
E-mail: h-tamaki@protosolution.co.jp
Regarding Joint Research and Industry-Academia Collaboration
University of the Ryukyus Research Promotion Section Industry-Academia Collaboration Office
E-mail:sangaku@acs.u-ryukyu.ac.jp
Regarding OpenStreet's Services
OpenStreet Inc. Public Relations
E-mail: pr@openstreet.co.jp
Regarding the "CYCY" Share Bicycle Service
PROTO Solution Co.,Ltd. Share Bicycle "CYCY" Contact
E-mail: cycy@protosolution.co.jp