News Release
Regarding Our Collaboration to Build Delivery Infrastructure Utilizing Automated Delivery Robots
2020.12.16
ENEOS Holdings, Inc. (Representative Director and President: Ota Katsuyuki) announced today that it has entered into a collaboration agreement with and will invest in ZMP Inc. (CEO: Taniguchi Hisashi, hereinafter "ZMP") and anyCarry Inc. (CEO: Kosaki Hidenobu, hereinafter "anyCarry") to build a delivery infrastructure using automated delivery robots.
Our collaboration aims to build a unique delivery infrastructure that can simultaneously deliver a wide range of products, such as food and daily necessities, to general consumers by deploying automated delivery robots at service stations (SS) and other locations. As demand for deliveries expands, we aim to meet the needs of delivery personnel, such as alleviating manpower shortages and ensuring safety.
As a first step toward establishing a delivery infrastructure, we will conduct demonstrations in the Tsukuda and Tsukishima areas of Chuo Ward in Tokyo, where ZMP has established the conceptualized "RoboTown," a cheerful place where people live with robots. The demonstrations will be conducted to verify the viability of the system as a business, including its operation rate, and the technical feasibility of linking it to a delivery platform that may make use of public roads. In the demonstration, ENEOS in conjunction with anyCarry will operate a platform for ordering, collecting, and paying orders received by nearby residents and deliver them using robots. Additionally, based on our collaboration with Toshin Energy Co.Ltd. (CEO: Hike Shintaro, hereinafter "Toshin Energy"), we will deploy ZMP's "DeliRo" automatic delivery robot at the Toshin Energy-operated Dr. Drive Tsukishima SS (address: 2-18-8 Tsukuda, Chuo-ku, Tokyo), which will serve as a charging and delivery base for the robot.
The demonstration will enable us to grasp the technical and business issues of this project and to design and construct an optimal system and business by 2022 that provides a safe, secure, and low-cost delivery infrastructure. In addition, we will study the integration of our existing services with this new delivery service, as well as various other services that utilize automated robots.
ENEOS has set "Community Service" as the theme of the Group's long-term vision and will aim to develop services that create unprecedented value through innovative businesses.
Overview of the Demonstration Project
Purpose
Identifying technical and business issues for the establishment of a delivery infrastructure using automated delivery robots.
Period
February 2021 (to be determined)
*Once the necessary procedures for driving on public roads are completed.
Location
Delivery Area: Tsukuda, Chuo-ku, Tokyo
Automated Delivery Robot Station: Dr. Drive Tsukishima SS operated by Toshin Energy
Implementation Details
Orders will be received from residents in the neighborhood through a platform to be jointly established with anyCarry, and said orders will be delivered using a robot, such as DeliRo.
Roles of Each Participating Company
・ZMP: Provision of the DeliRo delivery robot system, support for other robot operations, etc.
・anyCarry: Building an ordering and delivery platform
・Toshin Energy: Providing charging and delivery bases for robots
・ENEOS: Ownership, storage, and operation of DeliRo delivery robot, and operation of ordering and delivery platform
*Participating retailers, restaurants, etc. are still to be determined.
References
1.Image of RoboTown in the Tsukuda and Tsukishima Areas of Chuo Ward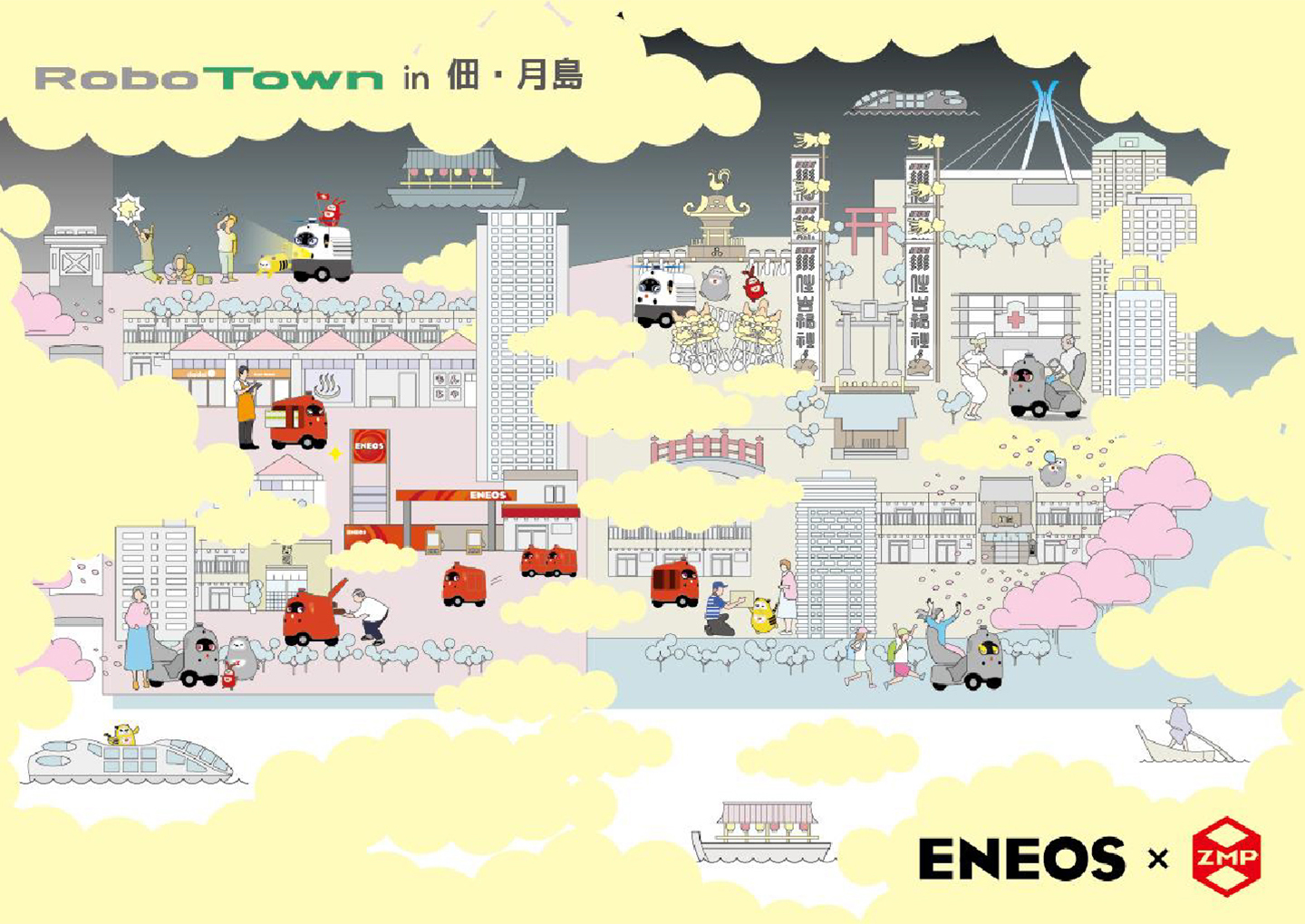 2.Overview of Each Company
(1)ZMP Inc.
Representative
CEO Taniguchi Hisashi
Address
5-41-10 Koishikawa, Bunkyo-ku, Tokyo, Sumitomo Real Estate Koishikawa Building
Business Details
1. RoboCar & Sensor Innovation: Development and sales of RoboCar series, RoboVision & other sensors for the movement of humans
2. CarriRo Creation: Development and sales of CarriRo, a logistics support robot & CarriRo Fork, an unmanned forklift for the movement of objects
3. IZAC Revolution: Providing services that bring innovation to customers' businesses with autonomous mobility technology
4. RoboTest Solution: Providing driving test data acquisition and analysis services
5. LIFE ROBOT BROTHERS: Development and provision of Low-speed self-driving robot Delivery Robot DeliRo, Single-seat Robot RakuRo, Unmanned security Robot PATORO
Founded
January 30, 2001
(2)anyCarry Inc.
Representative
CEO Kosaki Hidenobu
Address
2-5-3 Hirakawacho, Chiyoda-ku, Tokyo
Business Details
1.Development and provision of "Enterprise DeaaS" and "Standard DeaaS" as solutions for starting dedicated in-house deliveries at low cost and with short delivery time and low risk.
2.Provision of CoreDeaaS, a delivery infrastructure system for local governments and public organizations to revitalize their communities.
3.Operation of "anyCarry.jp," a quick delivery sharing platform that can be easily used by various restaurants and retail stores in the city.
Founded
August 8, 2019
(3)Toshin Energy Co.Ltd.
| | |
| --- | --- |
| Representative | CEO Hike Shintaro |
| Address | 2-1-7 Shinkawa, Chuo-ku, Tokyo |
| Business Details | Sales of petroleum products in general, straight asphalt for road paving, waterproofing materials for construction and civil engineering, operation of five directly managed service stations in Tokyo, car inspection, sales of various types of non-life insurance, sales of car leasing office supplies, etc. |
| Founded | November 1, 1945 |