News Release
Promotion of joint research with QunaSys Inc. on the development of computational chemistry methods using quantum computers
2020.04.21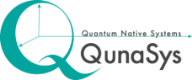 Since last year we have explored the possibility of utilizing quantum computers with QunaSys with the aim of "strengthening competitiveness" in our core business and "strengthening profitability" in its growth business.
QunaSys is a startup company we adopted in our 2018 Accelerator Program. They work on developing quantum computer algorithms (calculation methods) featuring methods that are different conceptually from conventional computers.
They have developed and proposed a number of new algorithms with the aim of expanding the utility of quantum computers.
By combining our technology with the calculation method of quantum computers, which is said to be overwhelmingly faster than conventional computers, we were able to confirm the possibility of significantly accelerating research and development and exploring new products.
We aim to maximize the cash flow set forth in the "2040 JXTG Group Long-Term Vision" by proactively engaging in and utilizing the algorithm development of quantum computers.
Overview of QunaSys
| | |
| --- | --- |
| Company Name | QunaSys, Inc. |
| Homepage | https://qunasys.com/ |
| Representative | CEO Yang Tianjin |
| Date of Establishmen | February 26, 2018 |
| Location | Aqua Hakusan Building 9F, 1-13-7 Hakusan, Bunkyo-ku, Tokyo |
| Number of Employees | 9 people |
| Business Areas | Computer software and hardware planning, research, development, design, manufacturing, sales, maintenance, leasing, renting, import / export and consulting services related to these |