Mobility
Micro Mobility Stations
New infrastructure adapted to changes in the mobility society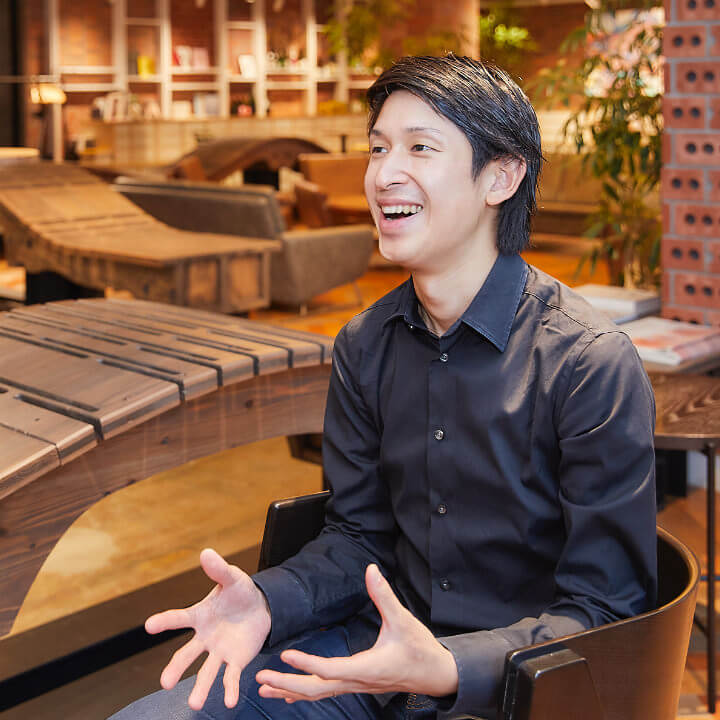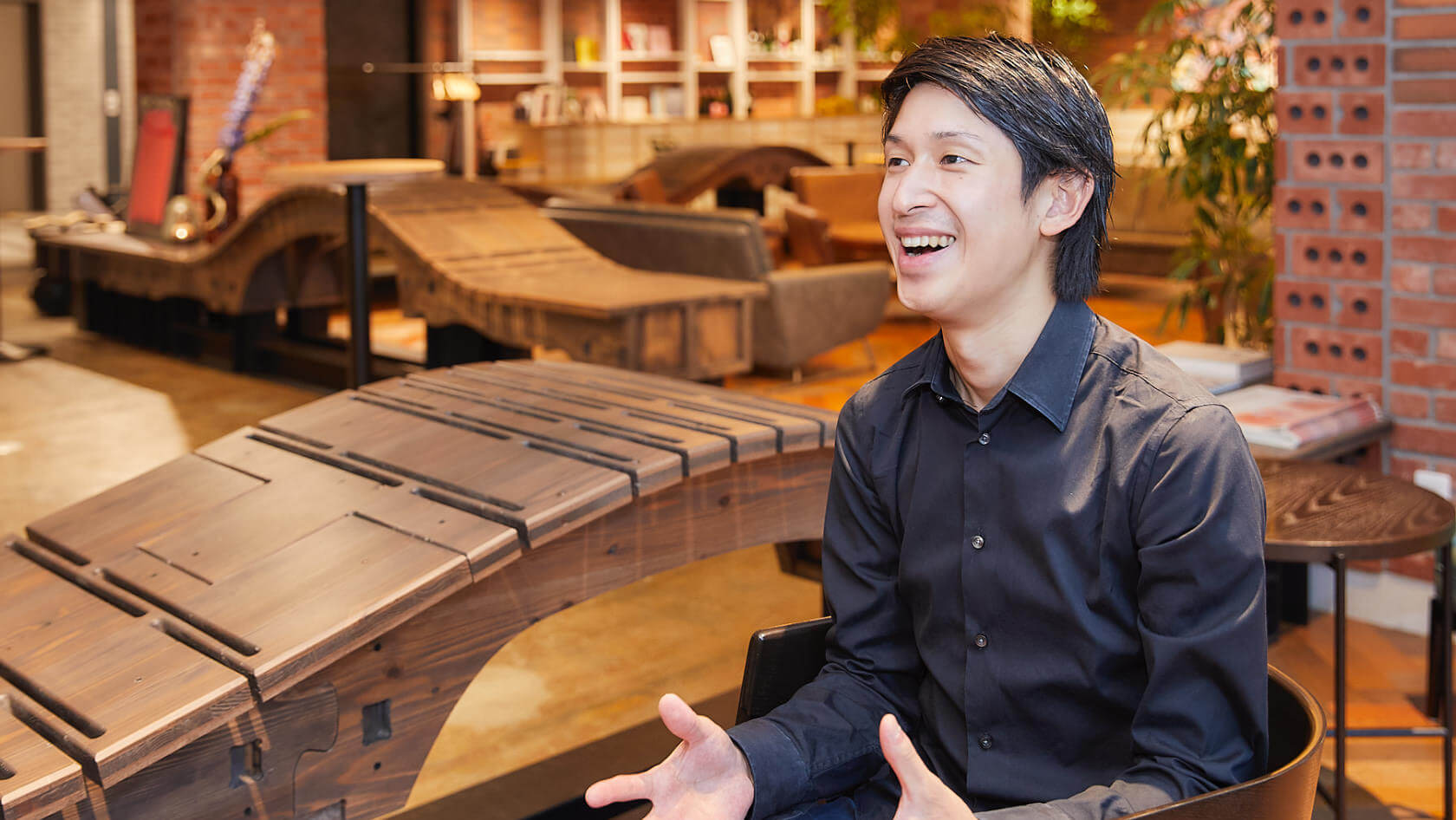 Staff
Sawada Takuro
After I joined ENEOS, I was in charge of refinery costing, fuel oil sales planning, and sales to gas stations. In order to respond to the changes in mobility that I have seen firsthand through fuel oil sales, I have been involved in creating new businesses in the mobility field since 2019.
From 2017 to 2019, I was in charge of developing fuel oil sales volume plans for the Kansai area (gasoline, kerosene, diesel, etc.) and sales to gas stations. During that time, I had several opportunities to receive briefings from the company regarding its long-term business plan, and they predicted that domestic demand for fuel oil would be reduced to two-thirds by 2030 and half by 2040. To be honest, I was shocked.
At the same time, we have seen gas stations having to close in our daily operations. It's not easy to invest in gas station equipment when demand is down. Price is the key to competition and profitability is getting worse and worse. As we wondered how we and our partner dealers could continue to grow in this environment, we came to realize that we should not stick to the traditional oil sales business, but rather, we needed to establish contact with our customers outside of gas stations. And in order to make myself a leader of services in line with the changing world, I have been involved in creating new businesses in the mobility field since August 2019.
Compass
ENEOS×Next generation mobility society
In the first place, the reason for the decreasing demand for fuel oil is the accelerated modal shift and EV shift, which is aimed at reducing CO2 emissions. These global trends have given rise to the concept of MaaS, which is the efficient use of shared mobility. Being "eco" may reduce oil consumption, but customers won't support a move that goes against the trend toward solving environmental problems.
That's why we want to build an "eco", comfortable and disaster-resistant infrastructure that will enable the next generation of mobility. One concrete solution is the micro-mobility stations that serve as charging points for bicycles, motorcycles, kick scooters and other vehicles.
In particular, the ENEOS Group's long experience in providing a stable supply of energy throughout Japan will be a key factor in the construction of disaster-resistant stations, which will allow us to take advantage of the ENEOS Group's strengths.
When I was in charge of sales to gas stations, there were major natural disasters, such as the earthquake in northern Osaka and Typhoon No. 21. As the city's infrastructure came to a halt, sales increased at gas stations that remained in operation. It was a moment when we learned firsthand that the movement of people and distribution of goods and services are necessary even in times of disaster. We hope to apply the operational know-how and expertise of the gas stations that have served as a lifeline in times of disaster to future mobility stations.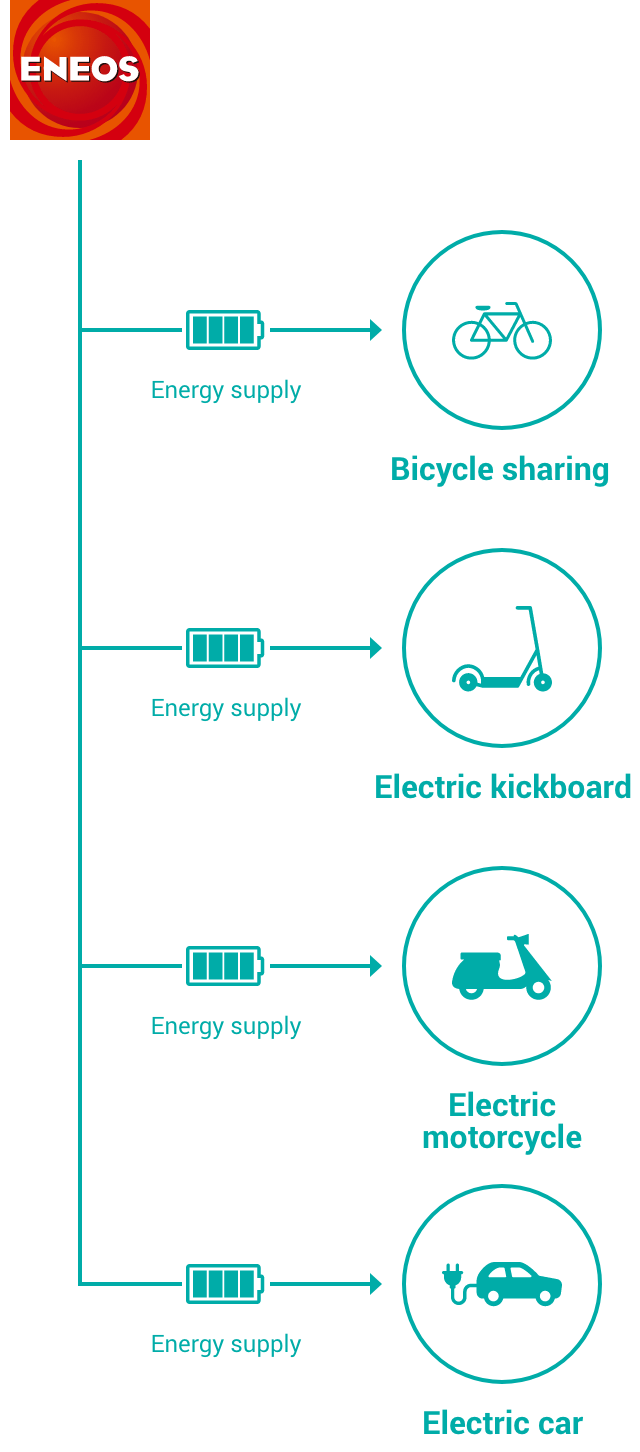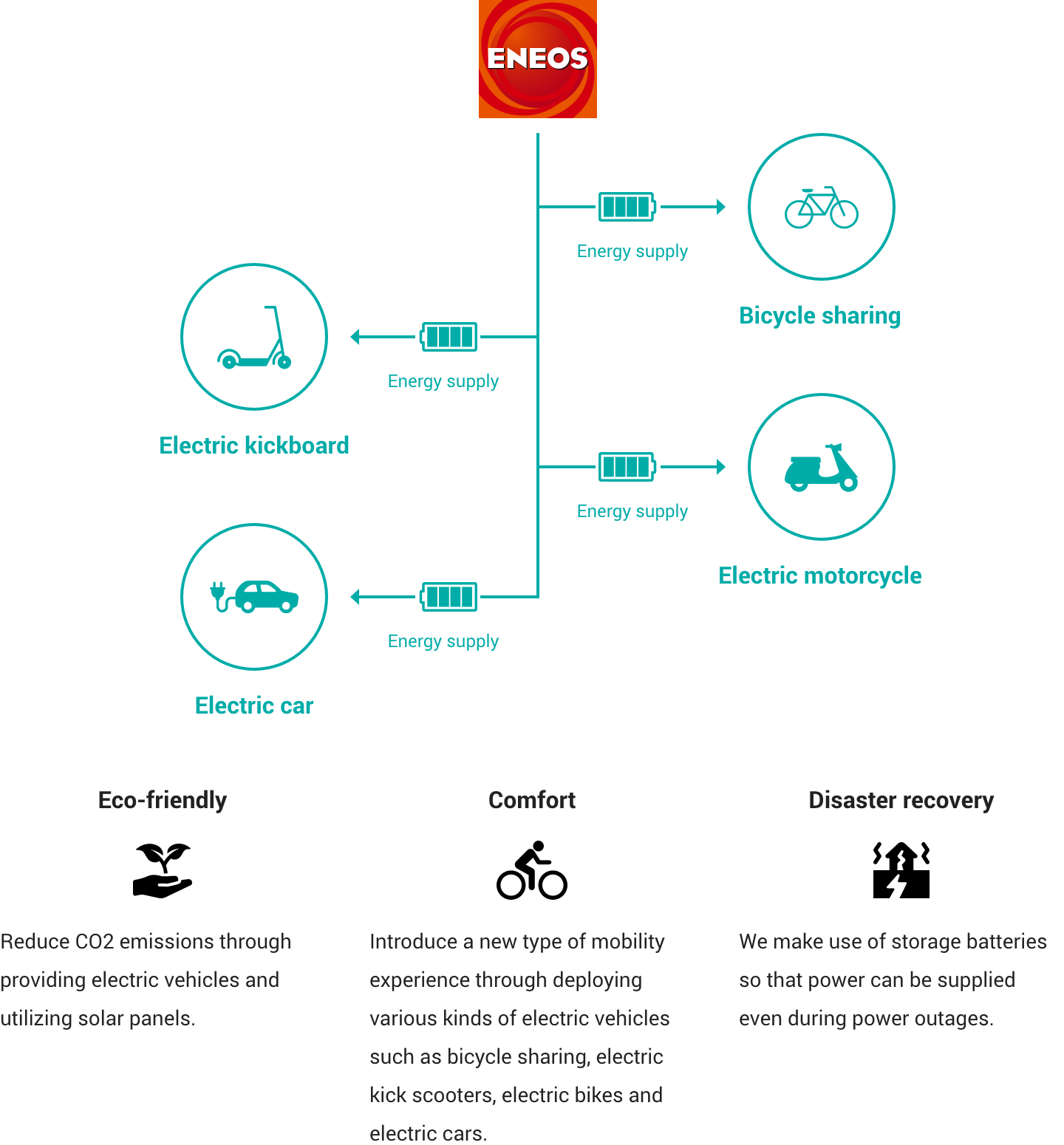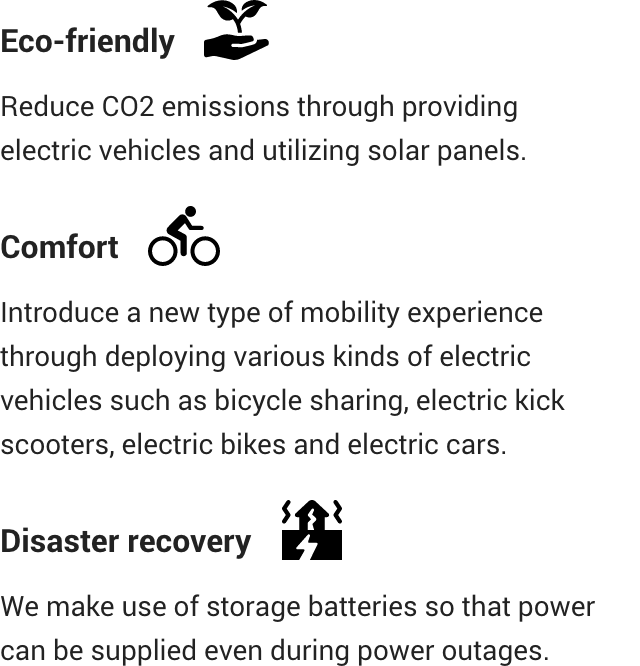 Activity
Collaboration with OpenStreet
Background
We have entered into a capital and business alliance with OpenStreet (OS), a company that operates HELLO CYCLING shared bikes and HELLO SCOOTER shared scooters in more than 200 cities and towns across the country, and we have begun exploring ways to utilize charging solutions for their shared mobility and the batteries built into their mobility vehicles.
We first encountered OS in September 2019 when we were introduced to the company by a business partner, who was very attracted to the fact that the company has strengths in AI and IoT technologies and aims to visualize, analyze and utilize people's mobility data. The more we discussed it, the more we felt we wanted to work together to create eco-friendly, comfortable and disaster-resistant mobility stations by combining our know-how and experience in energy supply with OS's digital utilization.
However, when we explained this concept to our employees, there were questions about whether or not this was a business that ENEOS should be involved in, as the sales potential was small compared to the oil business. We were also faced with the question of whether or not a company like ours could co-create a business with the speed of OS.
In the end, we conveyed to management that being involved in the creation of new forms of mobility would lead to the expansion of our business from a long-term perspective, and this led to the capital and business alliance.
Details
Our immediate task is to expand the range of mobility services.
In addition, we hope to work with OS to establish a presence in the local community through the shared mobility business and contribute to increasing the value of the community through eco-friendly, comfortable, and disaster-resistant means of transportation and convenient services.
Our ultimate goal is to provide a mobility experience that allows people to freely combine the mobility they want to use, even if they don't own a vehicle. To achieve this, we need the help of various partners, as described below.
Collaborations that we are seeking
Railway, bus and shared mobility operators/li>
Property owners
Municipalities
Manufacturers of mobility vehicles
Service providers for micro-mobility stations
Companies with battery re-use technologies and/or distribution channels
Companies with data analysis capabilities for data collected through mobility services
Future
Just as gas stations never stopped operating when disaster struck, in the future mobility society, we will never stop necessary transportation. To those of you who share our sense of mission, let's take on the challenge of creating a new social infrastructure together.