Recycling Society
Establishing an ecosystem for recycling plastic
In pursuit of a "non-trashing" society  Establishing an ecosystem for recycling plastic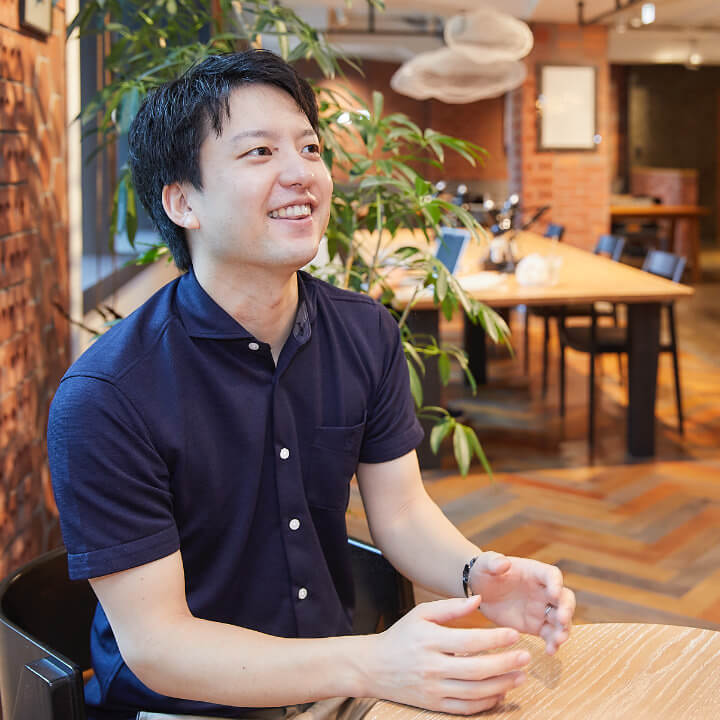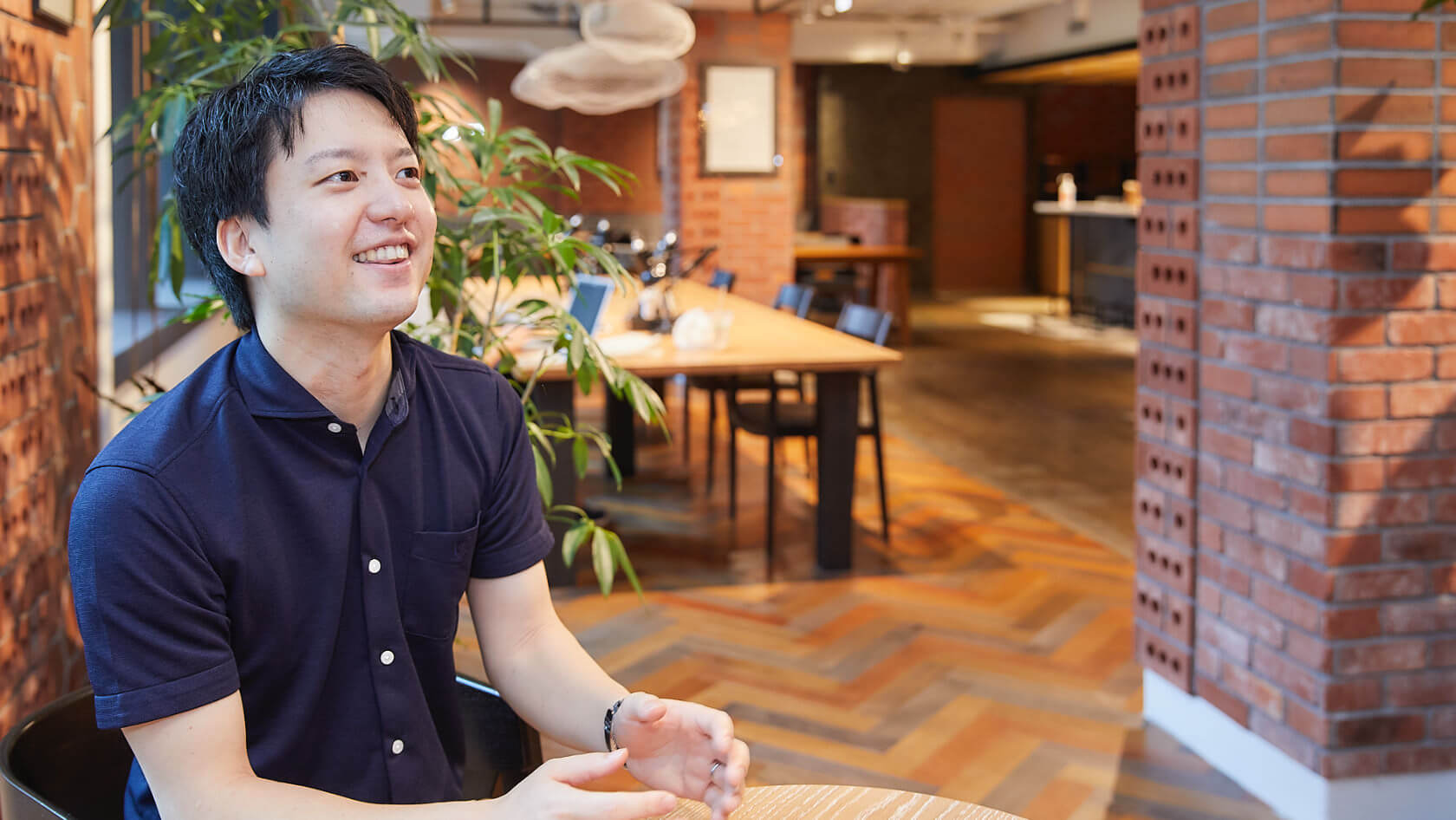 Staff
Ogura Shun
Since joining the company six years ago, he has been working as a process engineer at the Kashima Refinery, where he is involved in the production of paraxylene and other products that are used as raw materials for plastics, and since 2019, he has been working for the realization of a low-carbon, recycling-oriented society, with a focus on recycling waste plastics and blue carbon.
In recent years, environmental pollution caused by waste plastics, such as the problem of marine plastic waste, has been recognized as a serious social issue. At the same time, an increasing number of countries have banned the import of waste plastics, and the regulations in each country are expected to be tightened in the future. As a result of these developments, the amount of waste plastic to be processed in Japan has exceeded the capacity of recycling plants. As a result, even waste plastics that should be recyclable are being incinerated or buried in landfills, a situation that is at odds with the resolution of environmental issues.
Since I joined the company in 2014, I have been working as a process engineer at a refinery, where I am involved in the production of paraxylene (used to make polyester fiber and plastic bottles), a raw material for plastics. However, during refinery-sponsored tree-planting activities, many discarded plastic bags and plastic bottles were discovered when the ground in the area was dug up, and I saw firsthand the environmental maladaptive properties of plastic.
Recently, there has been a lot of activity to reduce the environmental impact of plastic by developing alternative materials and reducing the use of plastic bags. I think these efforts are important and should be promoted.
But to be honest, I don't think there is any substitute for the convenience of oil as a fuel or material. I don't think we can make the decision to completely give up convenience for the sake of the environment.
In addition, when we look at the overall picture of resource procurement and manufacturing processes, we are always concerned about whether they are truly environmentally friendly and whether we can reduce the environmental burden enough to make it worth giving up convenience. When we start something new, we should make sure that we thoroughly evaluate it before we proceed.
As an employee of ENEOS, which deals in oil, and as an individual, I want to take a stand on the social issue of recycling the plastics that are now being thrown away. And I believe that our knowledge of petroleum refining can be used to solve some of these issues. I have come to the conclusion that this is a good idea. And since the summer of 2019, we have been working on creating a recycling model, with the development of oleochemical technology for waste plastics at its core.
Compass
ENEOS x Plastic
Although ENEOS has a chemical manufacturing business that produces materials for plastic, we have been a petroleum distributor for more than 140 years, playing a role in the stable supply of petroleum products, mainly in Japan. For this reason, one of our biggest strengths is our ability to handle all the components contained in crude oil. The main recycling methods for waste plastics are material recycling, thermal recycling and chemical recycling. We are currently working on chemical recycling to return waste plastics to an oil state (oleochemical technology). Chemical recycling enables the recycling of plastics that are not adapted for material recycling and produces less CO2 emissions than thermal recycling.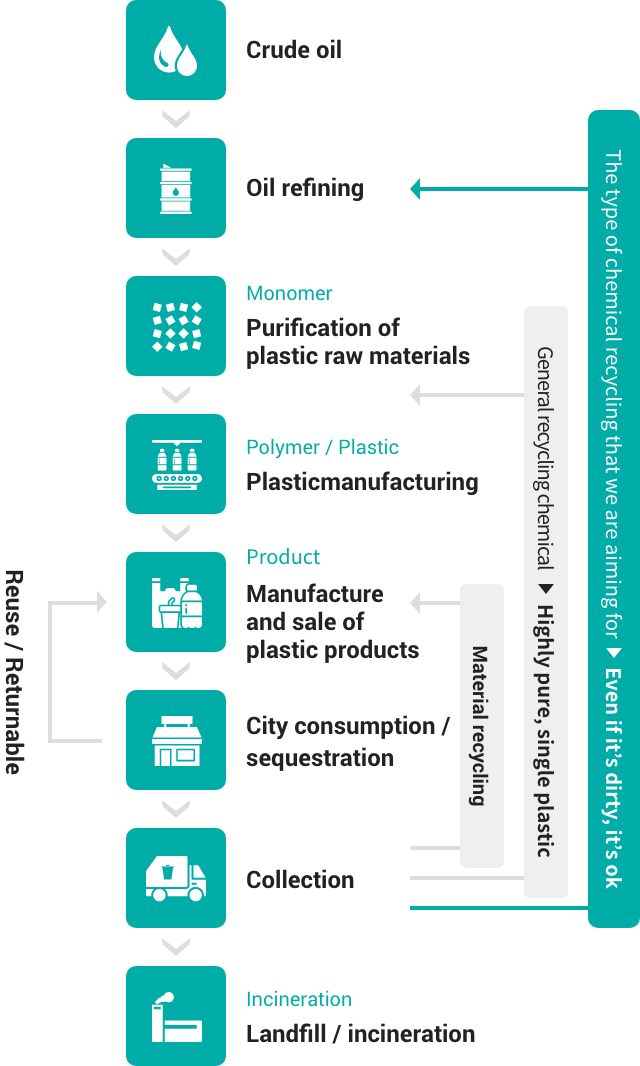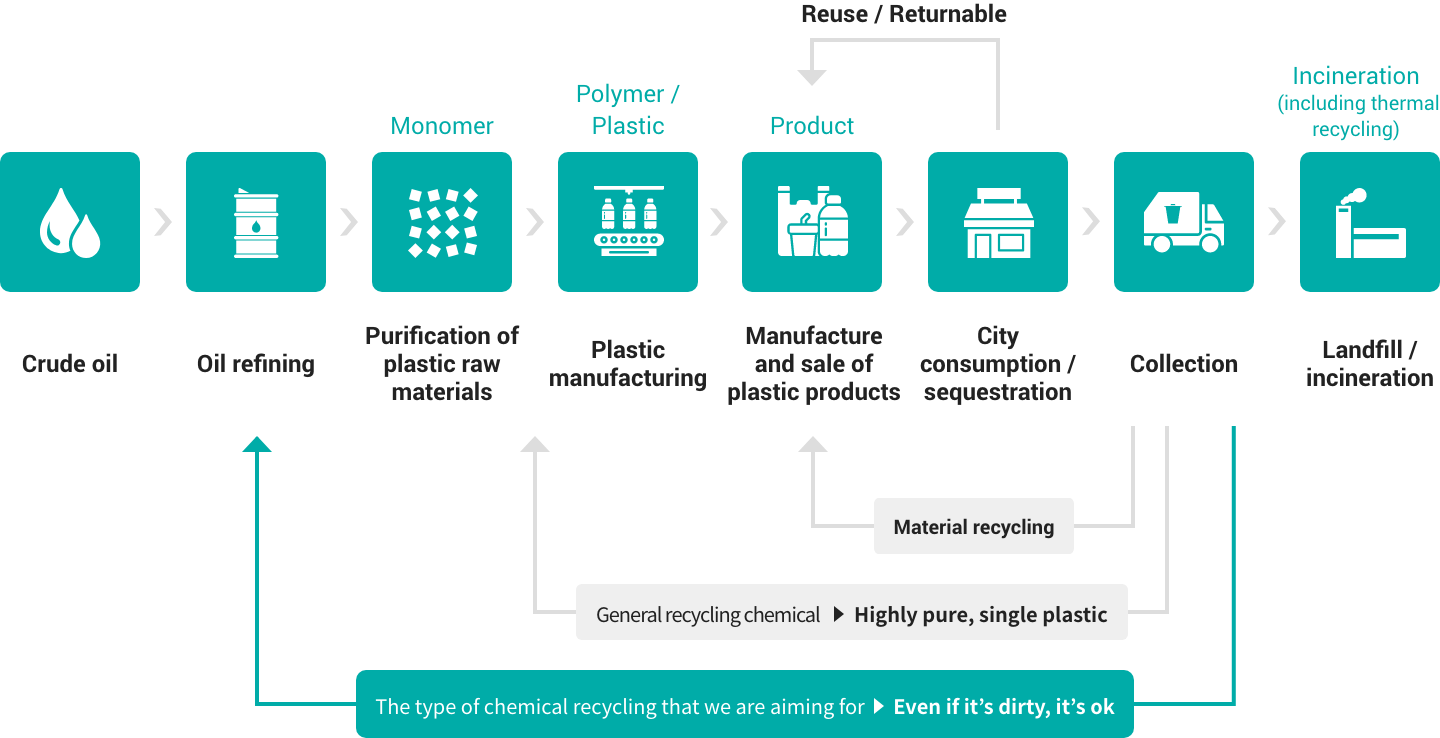 The current chemical recycling process does not allow for the handling of dirty waste plastics. This is because there are various components of dirt, such as oil-based dirt and metal-containing dirt. However, crude oil as it is extracted from an oil field is an extremely dirty substance. We believe that technology to remove the impurities in crude oil refining can be applied to increase the purity of waste plastics that have been converted to oil.
As of 2020, there are very few cases of waste plastics being converted to oil, but our target is to convert 10% of domestic waste plastics within 10 years. The use of oiled plastics will not only reduce the environmental burden, but also contribute to improving Japan's energy self-sufficiency. This is because Japan relies on imports for almost all of its crude oil, which oiled plastics will partially replace.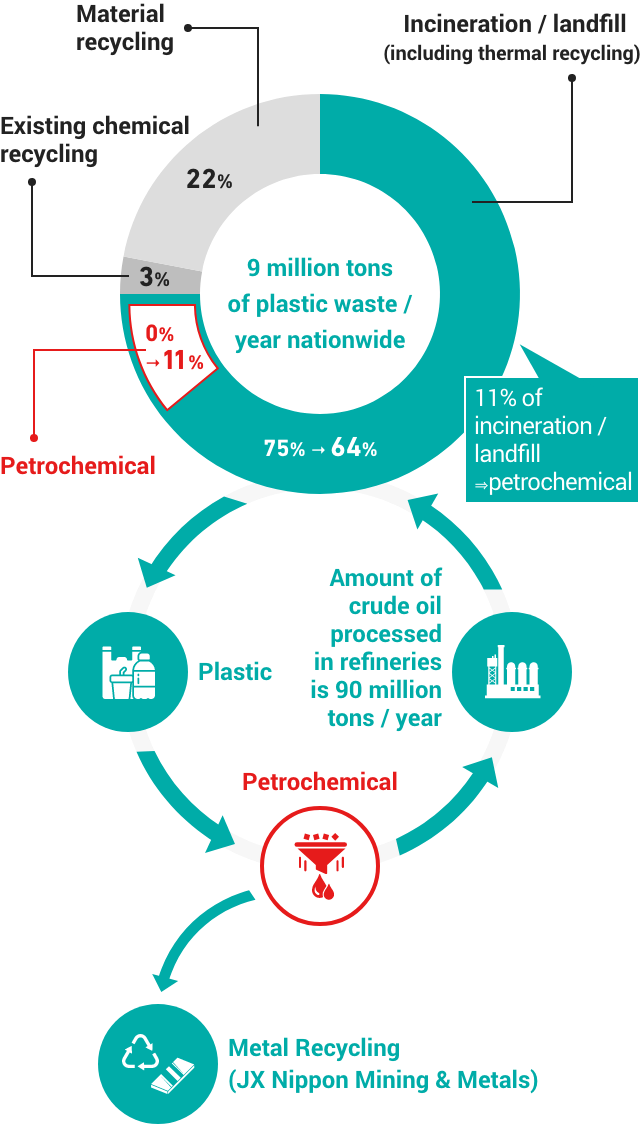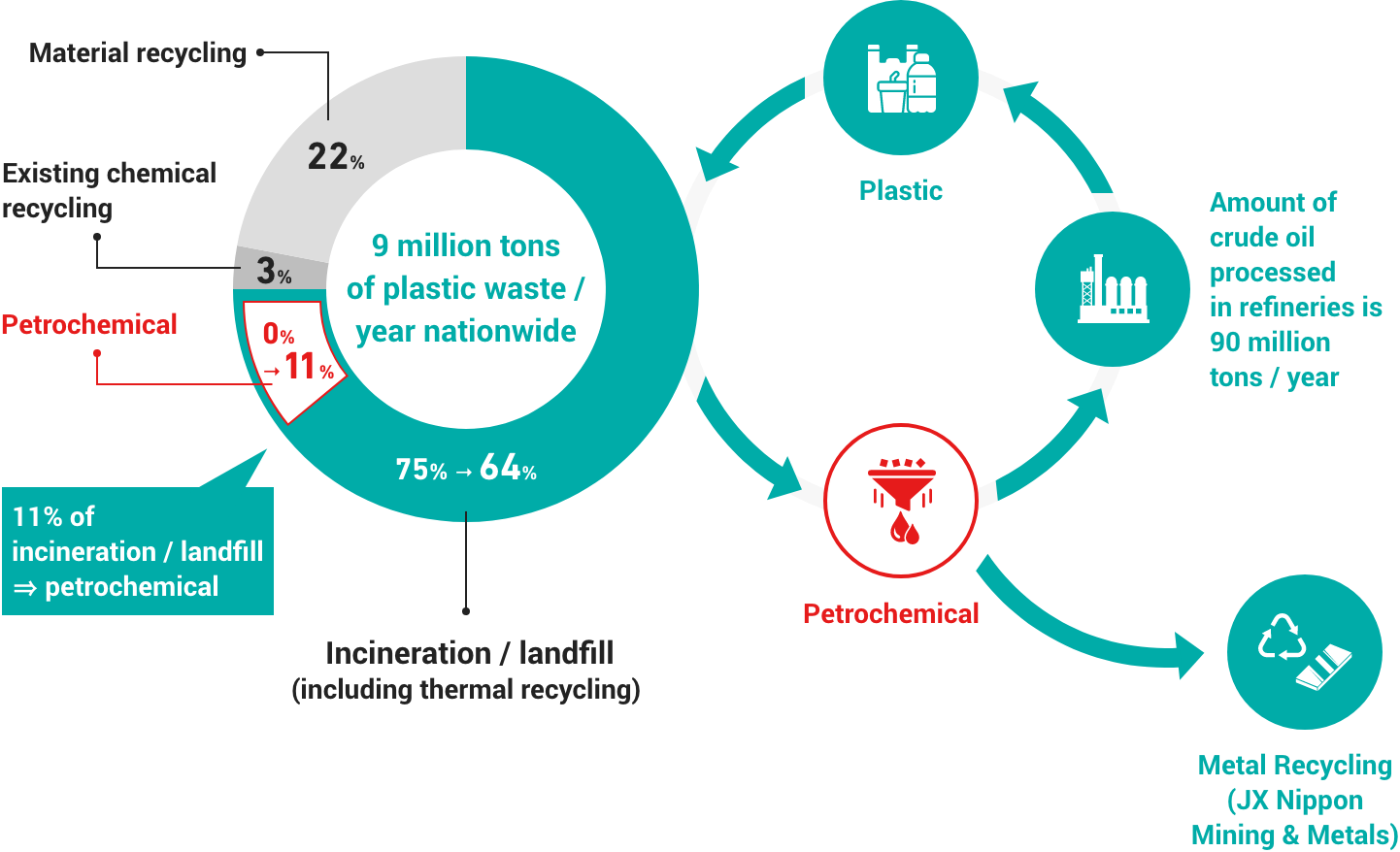 Activity
Building a sustainable plastic waste recycling model centered on petrochemical technology
Background / Details
At present, we are investigating both a waste plastic collection scheme and oleochemical technology.
While studying a business model for waste plastic recycling, we realized that the collection of waste plastics on a certain scale is necessary for a sustainable business. However, the problem is that waste plastic is not necessarily generated in a specific region, but is dispersed throughout the country. For this reason, we are conducting interviews with those involved in the project in order to explore partnerships with companies that produce waste plastics in Japan. Based on the recent SDGs trend, many companies say they would like to recycle their own waste plastics if possible, but do not have the technology or mechanisms to do so, and we feel that there is a need for solutions to this problem. On the other hand, because ENEOS does not have a collection scheme or know-how, we will approach companies that can take on the responsibility of collection and build a collection system together.
As for oleochemical technology, we aim to start operating a demonstration unit for the oleochemical process in 2021. Although we have already investigated several technologies, we would like to collaborate with companies that are interested in scaling up the technology for oiling waste plastics that are mixed with foreign substances and multiple types of plastics.
Future
While making the most of the technologies and know-how we have developed over the years in petroleum refining, we are also looking for ways to utilize plastics, which are petroleum-derived materials, in a more environmentally friendly manner and without waste, to provide new value to society. This is the identity of ENEOS, and at the same time, we feel that it is our responsibility. To all those who have expertise in the collection of waste plastics and oleochemical technology, let's work together to create a new business eco-system for the utilization of plastics.