Prepared for business over the next 100 years. With ENEOS as a partner, we can set our sights even higher.
Mobility
Prepared for business over the next 100 years. With ENEOS as a partner, we can set our sights even higher.
2020.10.27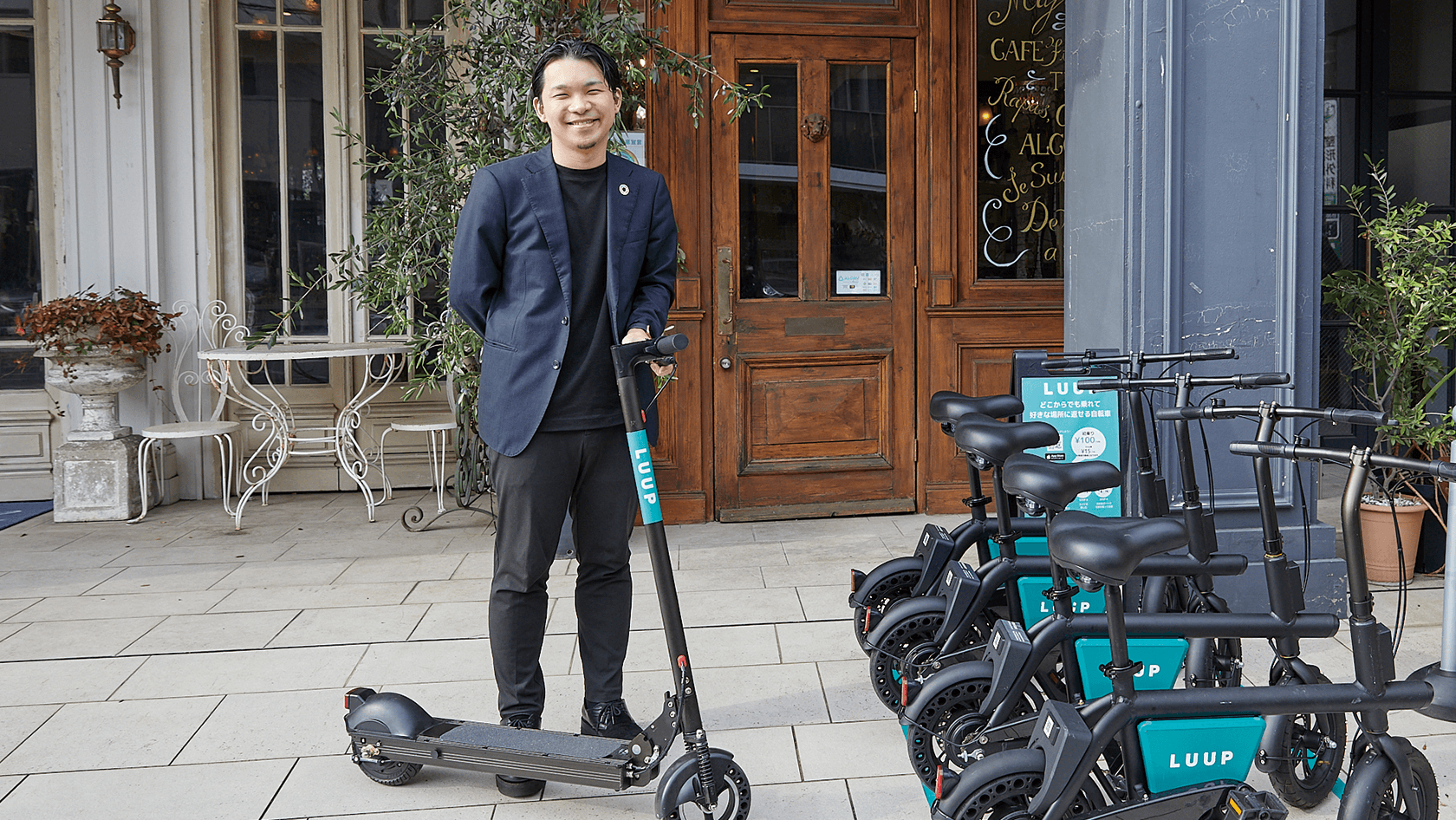 Meet the interviewee
Luup, Inc.
President and CEO
Okai Daiki
Business Overview
What would you like to achieve with Luup?
To create a new transportation infrastructure and helping the towns and cities of the future
Luup is an electric mini-mobility company. Our business consists of two pillars. One is to manufacture and promote electric scooters along with electric mini mobility for the elderly. Since this is a completely new means of transportation for Japan, we are currently in discussions with the relevant government ministries as well as testing the safety and efficiency of these vehicles.
Another pillar of our business is developing a next-generation model of electrically assisted bicycles that people in Japan are familiar with, including providing ports (bicycle parking) throughout towns and cities. What sets us apart from other bicycle-sharing services is that we can install 10 to 20 times more ports into a given public space due to their small size. We have already installed ports in Tokyo's Shibuya Ward as well as in six other wards in Tokyo.
The theme of our business is "How soon can we build the new transportation infrastructure Japan needs for its future?" This word "infrastructure" is at the heart of Luup. Our goal is not simply to expand our business and make a swift exit. As Japan's elderly population increases to one third of its total population, we question how society will maintain our depopulated hometowns, or will we simply concentrate the population into urban areas? The issue of mobility always comes up when drawing grand social designs. Ultimately, if electric mobility, like what Luup provides, is widely used as a transportation infrastructure, city development itself will enjoy greater flexibility. Instead of elderly people knowingly driving cars or riding bicycles despite the risks, they will be able to get around safely without anyone's assistance through specialized electric mobility. Luup will continue operating until such a future arrives, and we are proud to be a rare venture company with clear plans for the next 100 years.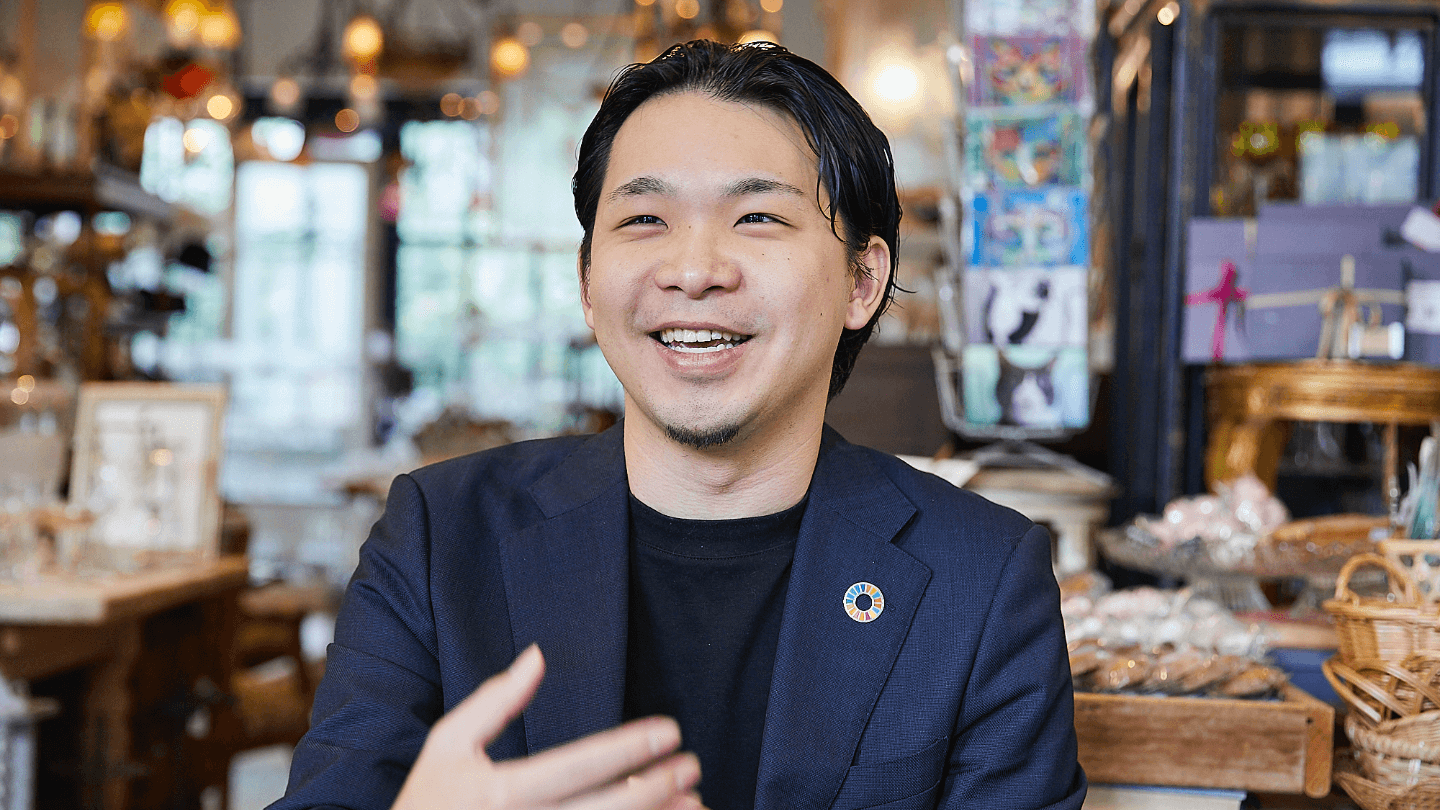 Electric scooters are finally being tested on public roads
As for the progress of our current project, we are in the phase of identifying issues for practical use and repeating the validation process regarding electric scooters. Neither we nor the ministries involved have a clear answer to the challenges of daily use in the streets of Japan. Rather than trying to reconcile differences of opinion, we are working to clarify facts through demonstration tests. For example, while people say that the wheels are too small and unsteady, the fact that the wheels are small means passengers can get on and off the scooter quickly, which actually makes it safer.
The number of issues will continue to grow, and only when we have finally verified them thoroughly will we enter the commercialization phase. It will take a lot of time to get to this point. In order to get the relevant ministries and agencies to understand the value of small electric mobility, we visited local governments all over Japan and interviewed them about their needs. We visited as many as 30 locations in six months. The reality is that both urban and rural areas are struggling with mobility, and the existing modes of transportation, including buses, are reaching their limits. We told them to speak with us if they felt it necessary, so we ended up holding a series of talks with them so that we may better work together in promoting the project.
At present, we have finally confirmed that the system is safe and effective in private spaces. We are now at the stage of conducting demonstration tests on public roads, and we plan to start in October 2020 in Chiyoda, Shibuya, Setagaya, and Shinjuku wards. I believe we have reached the final stage of discussion, but it is always possible that new issues will emerge in the future.
While making profit is part of the process, we have other priorities as well.
Luup's business would be much more profitable in the short term if it specialized as a bicycle-sharing service. However, our mission is to build infrastructure for better towns and cities. We will not continue operating simply for the sake of preserving Luup's existence as a company. The mobility industry, which has grown steadily over the past 50 years, is now evolving at breakneck speed. Within the next few years, we want to transform Japan's transportation infrastructure, which is at least three years behind the world's leading examples. That is why we have pursued profitable operations as part of the process, but we are working quickly to build the infrastructure that lies ahead. In order to speed up the process, it is essential that we have operating companies and VCs who are willing to share our risks with us.
Reasons for Collaboration
Why ENEOS?
To travel the shortest distance, it makes sense to work with the largest companies
We will work with the biggest, most recognizable energy companies to create the ideal scenario. The number one reason is that this will take us over the initial hurdles so we may start building the Japan of the future in earnest. For us mobility operators, charging is a major challenge, and we currently rely on in-house operations. But if we want to build an infrastructure that will last for 100 years, the best way is to simplify and integrate charging and other energy supply functions. With this in mind, we came up with the idea of partnering with a company that has energy supply infrastructure in place already all over Japan.
Again, Luup's mission is not to win as a mobility company, but to build the towns and cities of the future. We are working hard to cut the finish line tape as quickly as possible, but we are not, of course, thinking of cornering existing players or engaging in unnecessary competition. Given this perspective, we decided that it would be more rational and speedier to collaborate with a company with a proven track record, rather than supplying energy to our bicycle-sharing service and electric scooters entirely on our own. At first, however, we were not sure if we could get along with ENEOS. There was a good chance that we would have to start our own mobility business.
ENEOS is a company with a completely different perspective and a 100-year resolve
As soon as I met with ENEOS representatives, I sensed a difference in perspective between them and VCs and software companies. For example, it is not uncommon for a well-known software company to lose its initial product line because the focus has shifted over the past 10 or 20 years in the interests of the company's continued survival. But in the energy industry, this is unacceptable, because once you start, you have a responsibility to preserve the business for the benefit of society, so one's business model needs to be carefully considered. This sense of time frame is completely different from other industries.
If we are told to produce results in five years, we will start work on a service even if it will disappear in 10 years' time. On the other hand, if we are told that our business needs to last for 50 or 100 years, we need to be prepared to do so. ENEOS is clearly operating with the latter time frame in mind. More to the point, I was happy to see that such people shared our aspirations.
We want to keep a healthy tension in our relationship
What is important for us now is to take the first step in creating an infrastructure that will last for the next 100 years. We will proceed with the development of this infrastructure throughout Japan and demonstrate clear growth. Once we have achieved that situation, it will be ENEOS's decision whether they will take the risk from there onward. We will continue to work with a sense of urgency for our mission. On the other hand, there will be a timeline and growth milestones that ENEOS is looking for. In a recent meeting, we had a conversation with ENEOS about having a good sense of urgency together. That said, I am optimistic that we will be good partners for each other if we both continue to do our best and be the best we can be.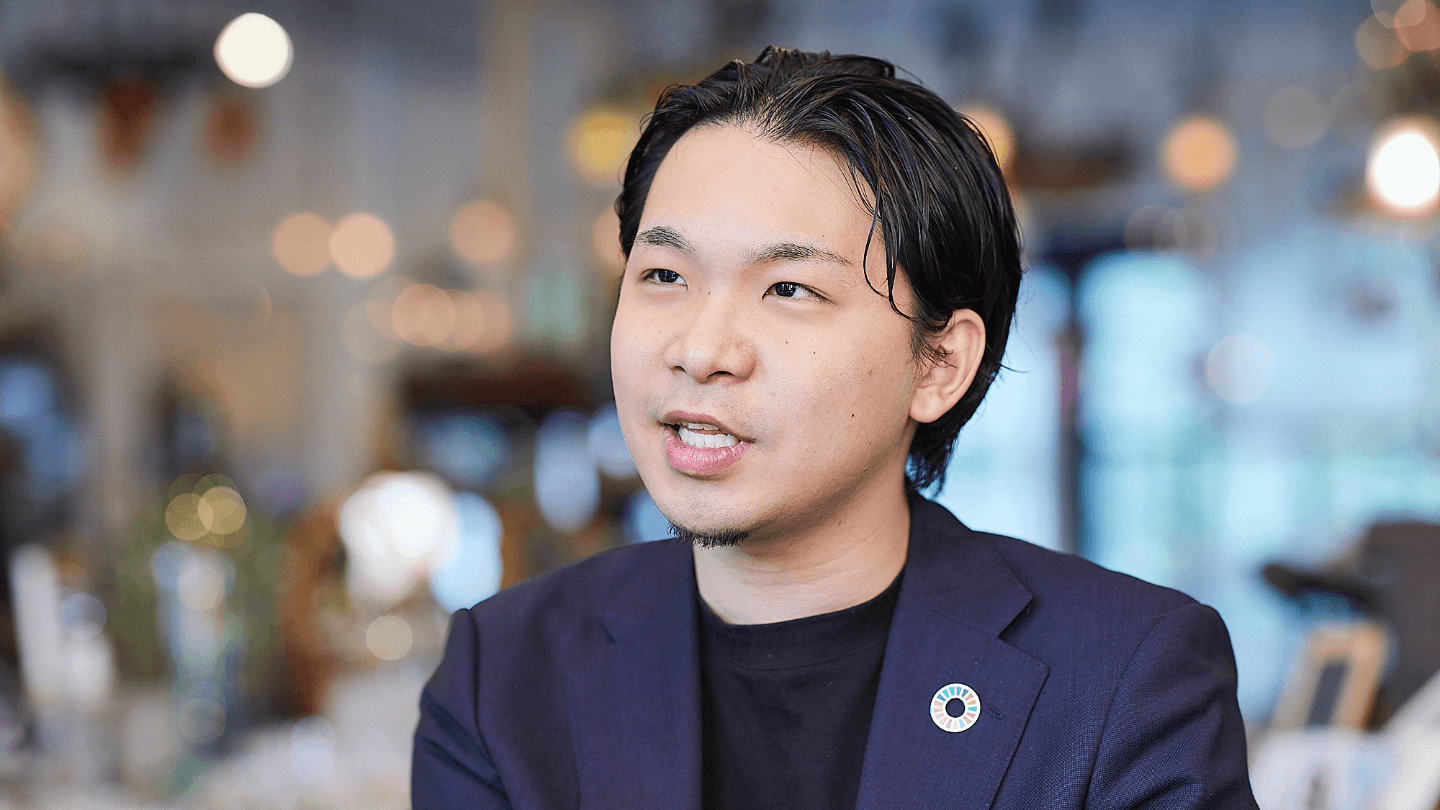 Related links
Related Sites
Related article